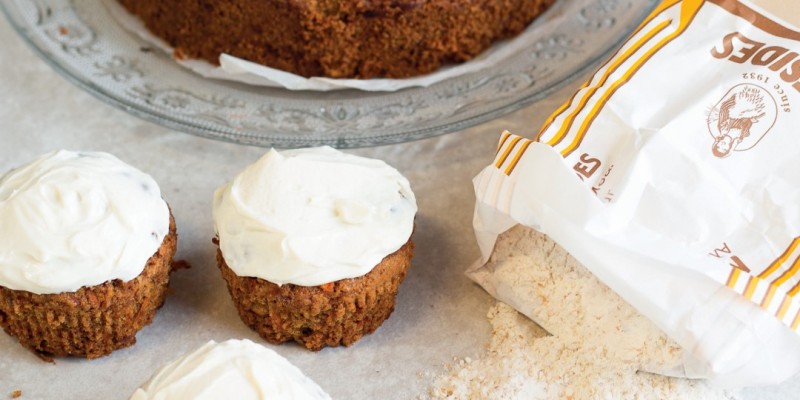 Category:
For Kids
|
Pastries & Sweets
1 cup Mitsides Whole Meal Flour
2 cups almond flour
2 tsp baking powder
1 tsp baking soda
1 tsp cinnamon
1 tsp mixed spice (ground cinnamon, star anise, cloves, fennel seeds, peppercorns)
½ cup brown sugar or coconut sugar
3 cups carrots, grated and juices squeezed out
2 large eggs, beaten
½ cup coconut oil (liquid)
1 Tbsp honey
1 tsp vanilla extract
For the frosting:
220g mascarpone cheese
¼ cup whipping cream
1 tsp vanilla extract
¼ cup maple syrup or honey
Pinch of salt
Preheat the oven to 180°C and line a square cake tin (23cmx23cm) with parchment paper. In a large bowl mix all dry ingredients (flours, baking powder, baking soda, spices and sugar). In a separate bowl mix all wet ingredients (eggs, coconut oil, honey and vanilla). Add the grated carrots to the wet ingredients and mix. Add wet ingredients to the dry ingredients and mix well with a spatula. Pour mixture in the cake tin and spread evenly. Your mixture will be rather thick than runny. Bake in the oven for 35 minutes.
To prepare the frosting, beat the mascarpone with the whipping cream with a mixer until you have a fluffy mixture. Fold in the maple syrup or honey and vanilla. Spread on the cooled carrot cake.