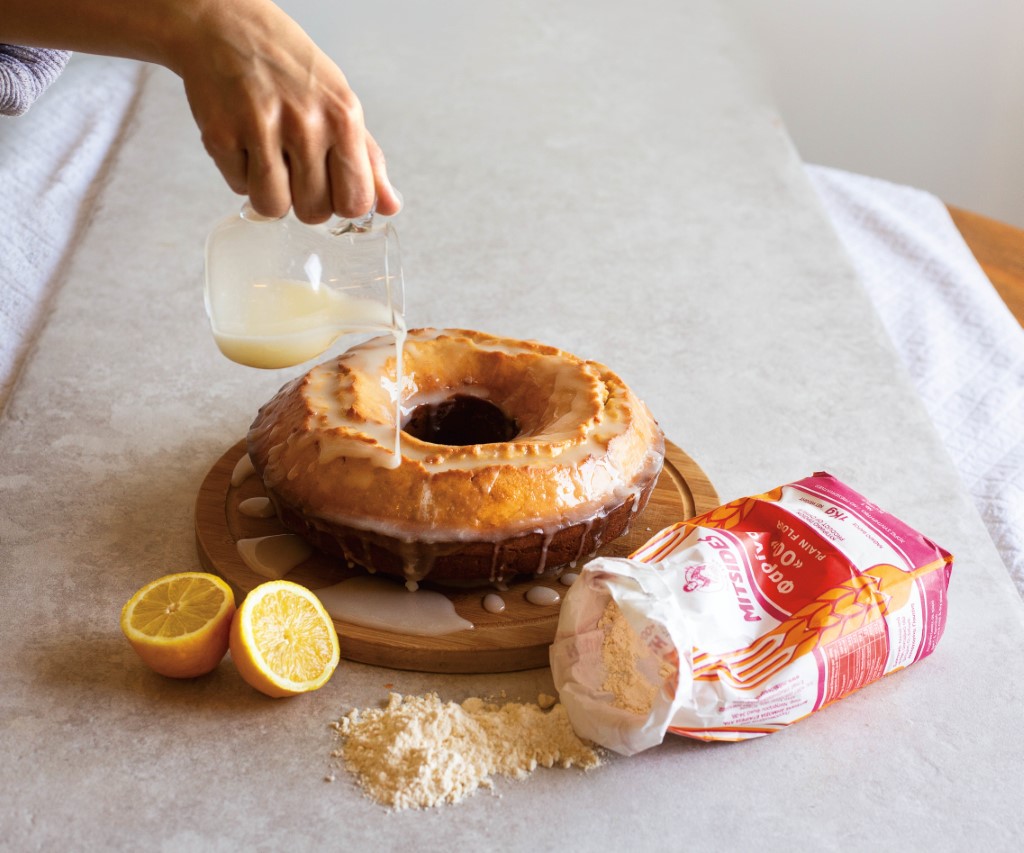 3 cups Mitsides Plain Flour
1 tsp baking powder
a pinch of salt
1 cup unsalted butter, softened
2 cups soft brown sugar
3 eggs
½ cup milk mixed with 1 Tbsp lemon juice
½ cup sour cream
4 Tbsp lemon juice
Zest of 2 lemons (about 2 Tbsp)
1 tsp ginger powder
1 tsp vanilla extract
Lemon glaze:
¼ cup lemon juice
1 cup icing sugar
Preheat the oven to 170°C.
After mixing the milk with 1 Tbsp lemon juice set it aside for 15 minutes, until the milk thickens. This is the best way to make buttermilk!
In a bowl, sift the flour, baking powder and salt. In another bowl, beat the butter and sugar together until light and fluffy. Beat in the eggs, one at a time. Mix in the sour cream, lemon juice, vanilla, ginger, and lemon zest.
Mix half of the flour mixture into the egg mixture. Mix in the buttermilk and then add in the remaining flour mixture. Mix until well combined.
Grease a bundt pan with sunflower oil. Pour the cake batter into the pan and bake for 45-55 minutes or until a knife inserted in the center of the cake comes out clean. In the meantime, prepare the glaze by mixing the ¼ cup lemon juice with the cup of icing sugar.
Once the cake is ready, remove from the oven and allow to cool for 5 minutes. Turn the cake over on a cake platter. Spread the lemon glaze over the warm cake so that the glaze can soak into the cake. Serve warm or cooled.