Orzo with prawns and feta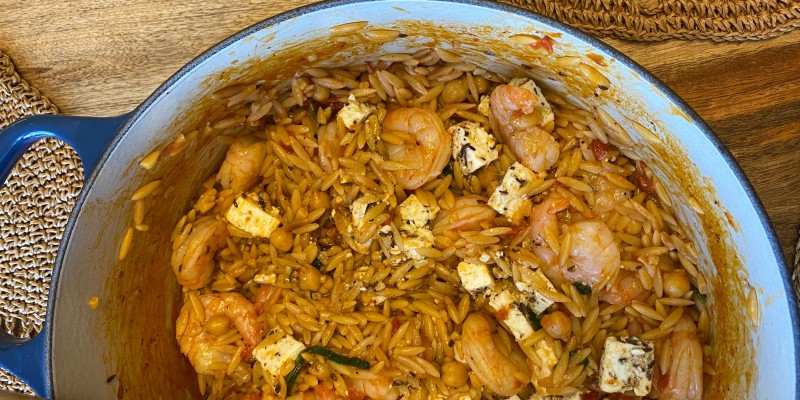 Category:
Vegetarian
|
With Seafood
1 pack Mitsides Orzo
2 Mitsides bouillon for pasta
1.5 litre boiling water (mixed with the bouillon cubes)
1 can Mitsides chopped tomato
1 tsp Mitsides tomato paste
1 can chickpeas drained 
300g feta cheese, crumbled
½ chili flakes
2 Tbsp fennel seeds, toasted and grinded
¼ cup olive oil
1 garlic clove, minced
600-800g large prawns, shell off
1 cup basil leaves, roughly chopped
salt and pepper
First marinate the feta with half of the olive oil, 1 Tbsp fennel seeds and chili flakes. Set aside or in the fridge.
In a large and deep skillet, heat the remaining oil and add the orzo, salt and pepper. Fry it for 2-3 minutes until some of the orzo starts turning golden brown. Add the remaining fennel seeds, garlic, chopped tomato, tomato paste and boiling water with the bouillon cubes. Let it cook on low heat for about 15 minutes, stirring frequently. Stir in the prawns and chickpeas and cook for 2 minutes until they turn pink.
Add the basil leaves, feta and mix. Serve with freshly grated pepper.