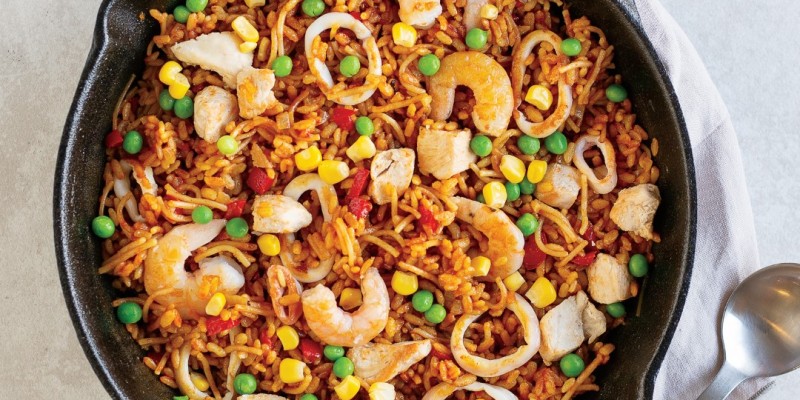 Category:
For Kids
|
With Meat & Poultry
|
With Seafood
250g brown rice for paella or risotto
½ cup Mitsides Cut Vermicelli
850ml boiling water
1 cube Mitsides chicken bouillon
2 Tbsp olive oil
1 onion, chopped
½ red pepper, deseeded and chopped
1 garlic clove, minced
1 tsp Mitsides Tomato Paste
1 chicken breast, cut in cubes
150g squid, sliced
150g prawns, cleaned
½ cup peas
3 Tbsp sweetcorn
½ lemon, the juice
2 tsps Mitsides Vegetable Powder
3-4 saffron threads
½ tsp paprika
¼ tsp turmeric
In a paella pan (or a large deep skillet) heat the olive oil and add the onion, garlic and red pepper. When softened add 1 tsp of the vegetable powder, paprika and turmeric. Add the rice and vermicelli, cook for a couple of minutes and then add the boiling water mixed with the chicken stock. Add the saffron threads and cook for 10-15 minutes on low heat.
In a separate pan, add 1 tablespoon of olive oil and sear the chicken. Add 1 tsp vegetable powder and cook for 5 minutes, turning so as to brown on all sides. When cooked, remove the chicken and add the squid and prawns. Cook for 2-3 minutes and remove from the pan.
Add the chicken, prawns and squid to the rice. Add the corn, peas, lemon juice, salt and pepper and cook for another 5 minutes. Serve in bowls.