Pasta with Creamy salmon and cherry tomatoes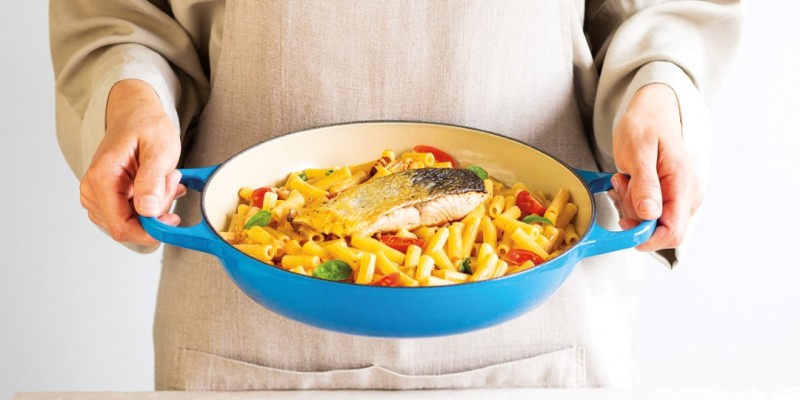 Category:
For Kids
|
With Seafood
½ pack Mitsides Denti Rigati (250g)
1 cube Mitsides Bouillon for Pasta
2 salmon fillets, skin on
15 cherry tomatoes, cut in quarters
6-7 sundried tomatoes, chopped and drained from oil
1 onion, chopped
1 tsp mustard powder
1 tsp paprika
1 tsp Mitsides Vegetable Powder
200ml fresh cream
a handful of fresh basil leaves, roughly chopped
2 Tbsp olive oil
Bring a saucepan of plenty of water to the boil and add the bouillon cube. Once dissolved, add the pasta and cook following pack instructions. Save ½ cup of pasta water for the sauce.
Season the salmon fillets with a little salt and pepper. In a skillet heat the olive oil and once hot place the salmon skin side down. Let it fry for a few minutes until the skin is crispy and doesn't stick to the pan. Turn on the other side and cook for 3-4 more minutes until salmon is cooked. Remove and place on a plate lined with kitchen paper.
In the same skillet, add the sundried tomatoes and onion. Add the cherry tomatoes, paprika, mustard powder and vegetable powder. Cook for 2-3 minutes and then add the cream and pasta water stirring often.  When the sauce is bubbling, lower the heat, add the pasta and mix well. Place the salmon fillets on top of the pasta or flake them in pieces and mix with the pasta. Add the basil leaves and serve immediately.