Pe- Ann's vegetable spring rolls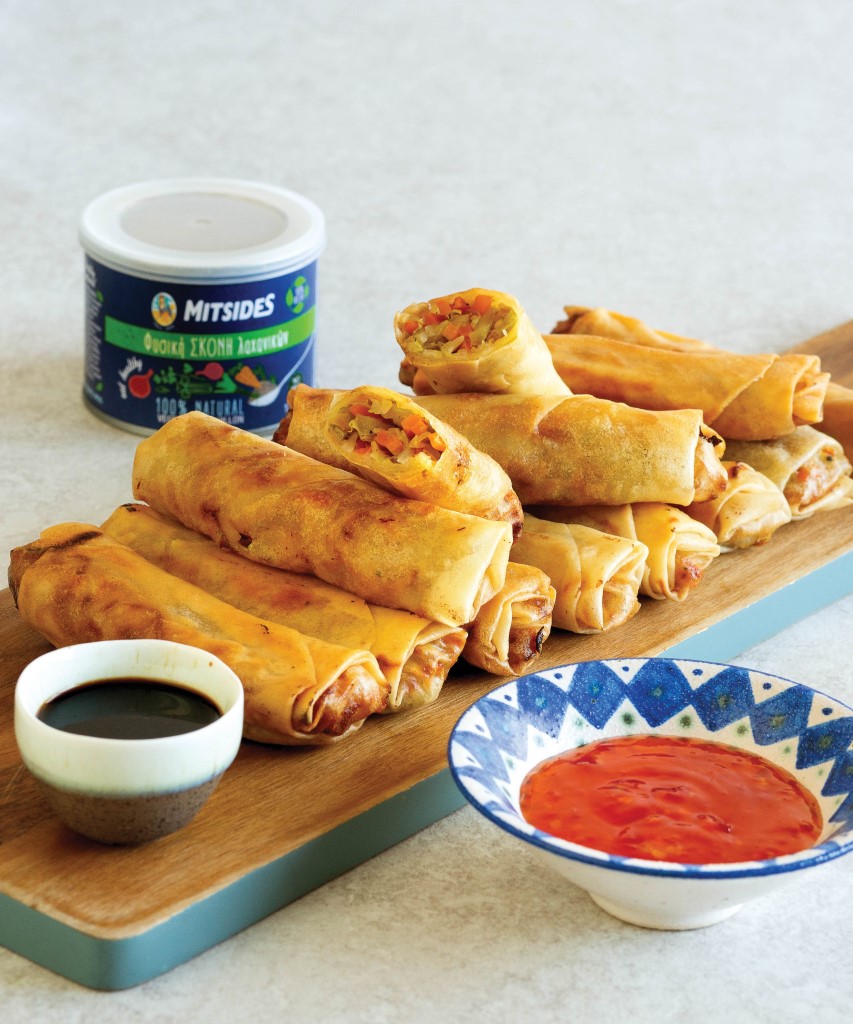 1 pack frozen spring roll pastry sheets
3 Tbsp olive oil
1 small onion, finely chopped
1 garlic clove, finely chopped
1 tsp Mitsides Vegetable Powder
1 tsp Fish Sauce
2 small carrots, coarsely grated
1 medium sweet potato, coarsely grated
½ cabbage, finely sliced
1 cup fresh bean sprouts (optional)
1 ltr sunflower oil (if frying)
freshly ground pepper
In a large wok, heat the olive oil and add the onion. When softened, add the garlic and cook for 1 minute. Add the carrots and sweet potato and cook for another 2 minutes. Add the cabbage and cook for 3 minutes more. Add the bean sprouts.
Add some pepper, fish sauce and vegetable powder and cook for 3 more minutes. Remove from the heat and let it cool.
Take a spring roll sheet and place it on a clean flat surface in front of you with one of the 4 corners facing towards you (in a diamond shape). Take 2 tablespoons of the veggie mixture and place it 5 cm from the corner closest to you. Roll the corner over the filling. With your hands, lightly flatten the sheet and fold in the right and left corners. Continue rolling until the whole sheet has been rolled and seal with a bit of water.
If you choose to fry the spring rolls, heat the sunflower oil in a deep saucepan. When hot, reduce heat, add 3-4 spring rolls at a time and cook each side for 2-3 minutes until golden and crispy. Place on kitchen paper to drain most of the oil.
If you prefer to bake the spring rolls, brush each spring roll with olive oil and bake at 180°C for 20 minutes, turning once halfway.