Penne with roasted cauliflower and spinach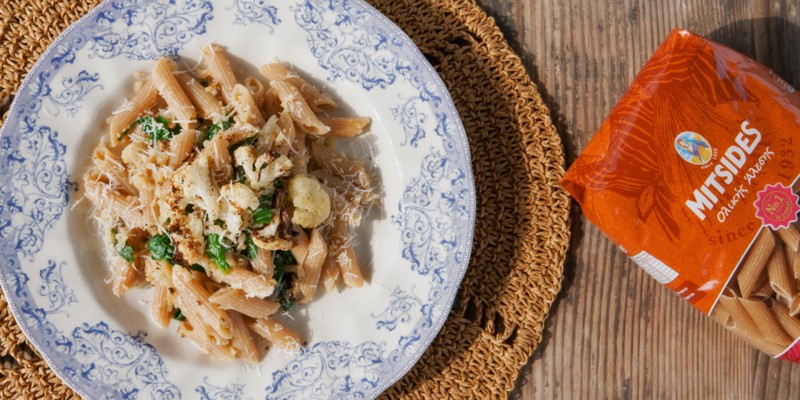 1 pack Mitsides whole wheat penne (500g)
1 large cauliflower 
1 bunch fresh spinach leaves, coarsely chopped
3 cloves garlic, whole
1 onion, chopped
½ cup Parmesan cheese, grated
½ cup. olive oil
Salt and pepper
1. Preheat oven to 180⁰ C. Cut the cauliflower into small florets and put them in a bowl. Put the olive oil, salt, pepper and garlic in the bowl and stir to coat. Spread the cauliflower on a baking tray with parchment paper and bake in the oven for about 20 minutes or until browned. When ready, remove from oven and allow them to cool.
2. Meanwhile, in large saucepan with plenty of salted boiling water, cook the pasta following the instructions on the package. As the pasta is cooking, heat a little olive oil and fry the onion in a large pan. Add the spinach and stir.
3. Put the cauliflower in a food processor and beat at medium speed, adding a little pasta water to make it creamy. Add the cauliflower to the pan with the spinach and pasta water. When the pasta is ready, drain and add to the pan with the cauliflower. Add parmesan and stir. Serve immediately!