Pizza with Ricotta, Goat Cheese and Vegetables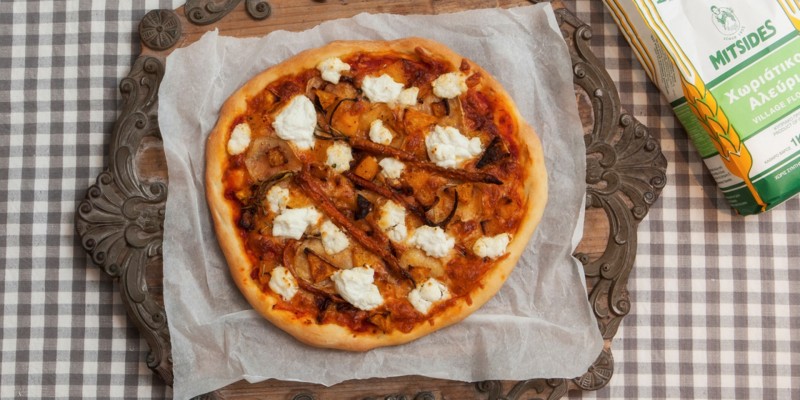 Category:
Breads & Doughs
|
Vegetarian
For the Dough
1 cup Mitsides village flour 
½  cup Mitsides plain flour (Farina «00») 
½  teaspoon dry yeast
½ teaspoon sugar
½ teaspoon salt
½ cup hot water
1 tablespoon olive oil
For the Pizza topping
100 g pumpkin, cut into 1cm cubes
1 potato, cut into very thin slices
1 red onion, chopped
2 cloves garlic
5 baby carrots, peeled and chopped into two vertical pieces
20g. ricotta cheese
20g. soft goat cheese
100g. mozzarella, grated
1 Mitsides Tomato sauce with basil
1 teaspoon rosemary leaves
Salt & Pepper
Olive oil
For the Dough:
Dissolve the yeast and sugar in a bowl with the hot water. Then add half the amount of the flour to the bowl and whisk. Then add salt, olive oil and the remaining flour. Mix well to form a smooth dough ball. Cover the dough with plastic wrap and let it rest until it doubles in size, for at least 1 hour.
For the Vegetables:
Place all the vegetables (pumpkin, potato, onion, garlic and carrots) in an ovenproof dish, sprinkle with a little olive oil, salt, pepper and rosemary leaves and bake in the oven at 180⁰C for about half an hour or until golden brown.
To make the pizza:
Sprinkle some flour on a clean surface and roll out the dough into a round medium sized shape. Then with your fingers create a raised wall on the outside of the circle
With a spoon, spread the tomato sauce on the base of the pizza and then add the grated mozzarella. Add the vegetables (you can leave out the garlic if you prefer) and using a spoon add the ricotta and goat cheese on top.
Bake the pizza in a preheated oven 180⁰C for about half an hour.