Pumpkin and spinach cannelloni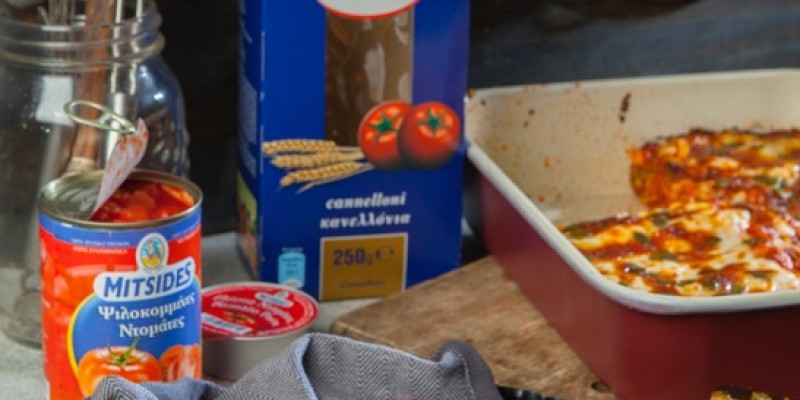 Category:
Oven Dishes
|
Vegetarian
For the tomato sauce
5 Tbs olive oil
2 garlic cloves, crushed
1 cup white wine
2 x 400 grams «Mitsides» chopped tomatoes
1 Tbs «Mitsides» tomato paste
2 Tbs basil leaves, roughly chopped
salt and freshly ground black pepper
 
For the white sauce
2 cups milk
2 Tbs butter (40 grams)
2 ½ Tbs «Mitsides» plain flour
a pinch of grated nutmeg
salt and freshly ground black pepper
2 Tbs grated parmesan
1/3 cup grated mozzarella
2 Tbs pumpkin seeds
Make the filling:
Preheat oven to 175 C. Put pumpkin in a baking pan and drizzle with the 1/3 cup olive oil. Season with salt and pepper. Bake for 20-25 minutes, until pumpkin is nicely roasted and soft. Mash pumpkin with a fork  (or a blender) and put in a bowl until needed.
Put spinach leaves in a large pot, oven medium-low heat. Cook, stirring often, until all leaves are wilted and soft (skip this step if you are using frozen). Drain spinach and squeeze firmly with your hands to remove all the water. Chop spinach and put in a bowl with the pumpkin. Add the ricotta and mix with a fork. Taste mixture and season with a little grated nutmeg, salt and black pepper. Filling can be made one day in adavance and kept covered in the fridge.
Make the tomato sauce:
Heat the olive oil in a large pot over medium heat. Add the garlic and cook stirring until fragrant (don't burn the garlic, or it will taste bitter). Add the wine and bring to boil. Let it evaporate for about a minute.
Add the chopped tomatoes with their juices, the tomato paste and basil leaves. Season with salt and pepper. Let the sauce simmer for about 5-6 minutes until it barely starts to thicken (don't let it thicken too much. Sauce needs to be runny for the cannelloni to cook). Sauce can be prepared 2 days in advance and kept covered in the fridge. Reheat before assembling the cannelloni.
Make the white sauce:
Melt the butter in a saucepan, over medium-high heat. Add the flour and stir until incorporated. Cook stirring often until flour is fragrant and starts to colour. Add the milk and whisk vigorously to dissolve any lumps. Bring sauce to boil, stirring constantly, until it starts to thicken.
Take sauce off the heat and season with salt and a pinch of grated nutmeg. If not using right away, pour sauce in a bowl and cover with a buttered round of greaseproof paper to prevent skin from forming, while sauce cools. Alternatively you can cover with plastic wrap but you need to make sure the plastic touches the surface of the sauce. Personally, I make the sauce right before I use it, as it thickens as it cools and becomes more difficult to handle. Besides, it takes only a few minutes to prepare.
Assemble and bake the cannelloni:
Preheat oven to 175 C. Put your filling in a plastic food-grade bag (a zip-lock would do fine), or a large piping bag if you have one. Take your scissors and snip the corner of the bag, making an opening that's roughly the same size as the diametre of your cannelloni. Hold one cannelloni upright and squeeze the bag to fill it. Make sure you filled the whole tube as air pockets will make the cannelloni flat as it bakes. Sometimes you might need to turn the tube around, and pipe again, since the filling is quite thick.
Take a large rectangular baking pan. This can also be glass or ceramic. Pour about 1 ½ cup of tomato sauce all over the base and spread it. Lay your filled cannelloni in the pan, one next to the other. Pour the remaining tomato sauce on top of the cannelloni. Pour the white sauce and sprinkle with the parmesan, mozzarella  and pumpkin seeds. Bake for 45 minutes. Serve to eager guests.