Quinoa, beef & veggie balls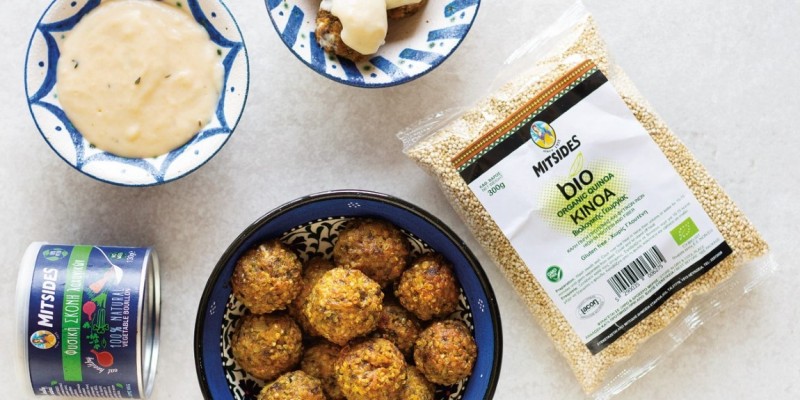 Category:
For Kids
|
Oven Dishes
|
With Meat & Poultry
1 cup Mitsides White Quinoa, cooked and cooled
1 cup broccoli florets, steamed and cooled
½ apple, grated
250g ground beef
1 onion, chopped
1 garlic clove, minced
1 cup mushrooms
1 egg, beaten
1 tsp Mitsides Tomato Paste
2 tsp Mitsides Vegetable Powder
½  tsp ground pepper
2 Tbsp Parmesan cheese, grated
Olive oil
Preheat the oven to 180°C. Line a baking tray with parchment paper.
In a food processor add the broccoli, onion, garlic, apple and mushrooms and pulse until you get a finely grated mixture. Don't over blend as it will become mushy.
Transfer the broccoli mix in a large bowl. Add the beef, quinoa, egg, tomato paste, vegetable powder, pepper and parmesan. Mix with your hands and form balls (you decide the size) and place on the baking tray. Drizzle with a bit of olive oil and cook in the oven for about 20 minutes until cooked but slightly juicy. Let them cool for 5 minutes and serve.
I served them with pasta and cheese sauce and the combination was great!
Cheese sauce recipe:
3 Tbsp butter
3 Tbsp Mitsides Plain Flour
½ tsp salt
½ tsp Mitsides Vegetable Powder
½ tsp mustard powder
1½ cups whole milk
1 cup cheddar cheese, grated
Heat the butter in a medium sized saucepan. Add the flour, salt, vegetable powder and mustard powder while whisking continuously. Add the milk and continue stirring to create a smooth cream. Add more milk if needed and then add the cheese. Strir until the cheese has melted and you have a smooth sauce.