Quinoa burgers with beans and halloumi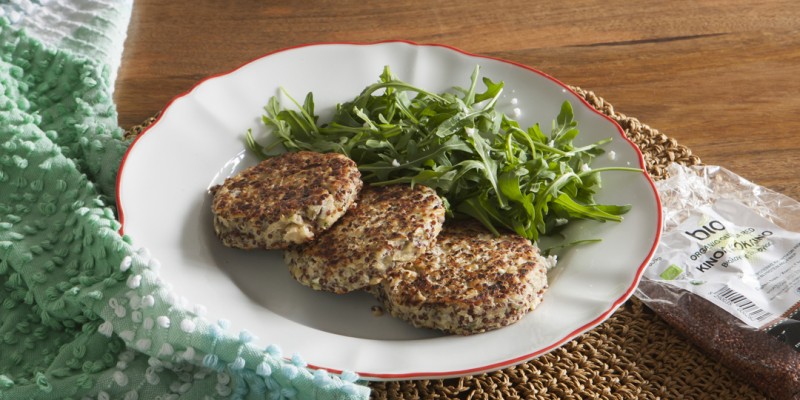 1 cup Mitsides red quinoa
1 cup cannellini beans, cooked and mashed
1 cup halloumi, grated
½ cup gruyere cheese, grated
1 spring onion, chopped
2 eggs, beaten
2 tablespoons fresh mint, finely chopped
1 cup fresh breadcrumbs
1 tsp dry mint
1 tsp paprika
1 tsp vegetable powder
Salt and pepper
sunflower oil for frying
Rinse the quinoa well and cook following pack instructions. When the quinoa is cooked, let it cool completely.
In a shallow dish mix the breadcrumbs with the mint, basil and vegetable powder.
In a large bowl, add quinoa and cannellini beans and mash with a potato masher. Add grated halloumi, gruyere, onion, eggs, mint, salt and pepper and mix together. Place the mixture in the fridge for 15 minutes.
Take a handful of the mix and form patties with your hands. Place the patty on the dish with the breadcrumbs and coat both sides.
In a large skillet, add sunflower oil (about 1cm height), heat well and add the coated quinoa patties. Cook each side for 2-3 minutes until both sides are golden brown. Make sure you don't overcrowd your skillet with patties otherwise they will might stick together.
Enjoy with a fresh salad.