Quinoa crusted chicken fingers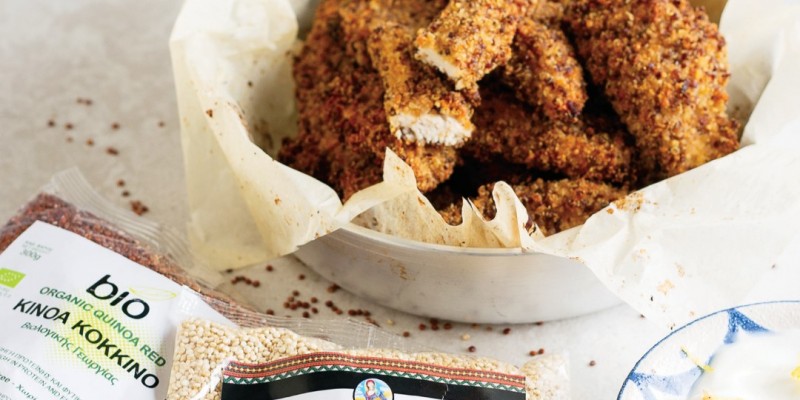 Category:
For Kids
|
Oven Dishes
|
With Meat & Poultry
½ cup Mitsides White Quinoa
½ cup Mitsides Red Quinoa
1 cube Mitsides Vegetable Bouillon
500g chicken breast, cut in strips about 8cm length and 3 cm width.
½ cup breadcrumbs
½ cup halloumi cheese, grated
1 tsp mixed spice (see page xxx)
1 tsp Mitsides Vegetable Powder
1 tsp ground pepper
For the chicken marinade:
½ cup yogurt
2 Tbsp honey
2 Tbsp Dijon mustard
2 Tbsp lemon juice
In a medium sized bowl, mix all marinade ingredients together and place the chicken strips in the bowl. Mix to coat and set aside.
Preheat oven to 180°C. In a medium size saucepan, add 2 cups of water and bring to a boil. Add the vegetable cube and when dissolved, add the quinoa. Cook for 10 minutes until all water has been absorbed.
Place the quinoa on a baking tray lined with parchment paper. Spread in one layer and bake for about 20 minutes until quinoa turns crunchy. Cool and pulse ½ of it in a blender to make it into powder.
In a medium sized bowl, add the All the quinoa ( powder and whole), breadcrumbs, halloumi, mixed spice, vegetable powder and ground pepper. Dip each chicken strip in the mixture and place on a baking tray lined with parchment paper. Brush chicken fingers with olive oil and bake for 12-15 minutes.