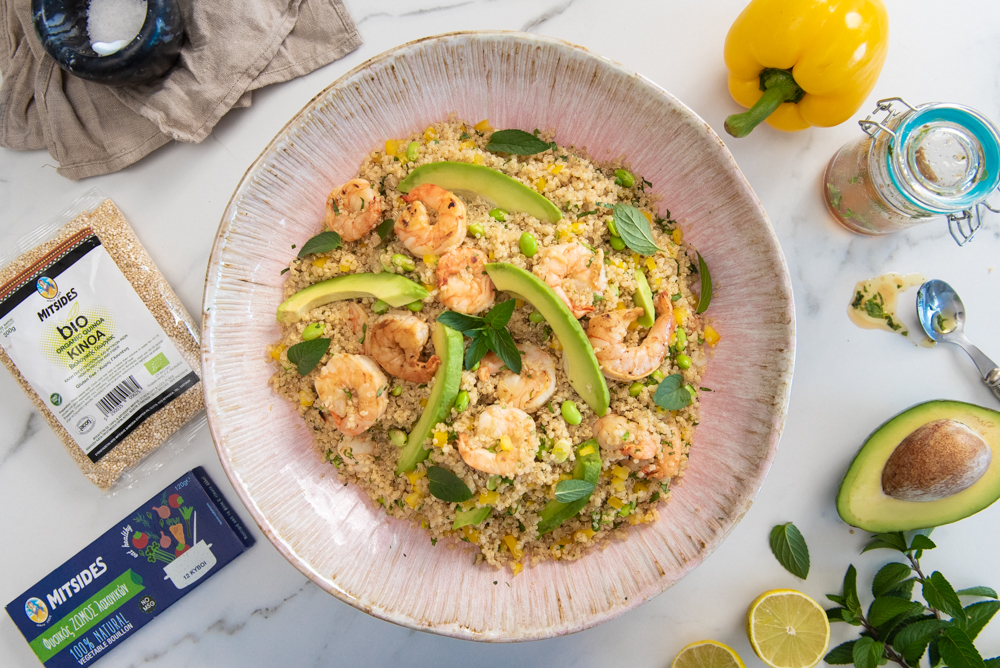 Category:
Salads
|
With Seafood
1 cup Mitsides White Quinoa
2 cups boiling water
2 cubes Mitsides Vegetable Bouillon
500g king prawns, cleaned
1 orange, juice
½ lemon, juice
1 garlic, minced
1 Tbsp soy sauce
Salt & pepper
Chili flakes
1 avocado, sliced
½ cup Edamame beans
¼ cup fresh coriander, chopped
1 spring onion, chopped
2 tbsp mint leaves, chopped
1 yellow pepper, chopped
Dressing:
4 tbsp olive oil
2 tbsp lemon juice
1 tbsp Apple cider vinegar 
1 tbsp soy sauce
1 tbsp maple syrup
Salt & Pepper 
In a large saucepan add the boiling water and the vegetable cubes. Once dissolved, add the quinoa and cook following pack instructions until water has been absorbed. Let the quinoa cool completely.
Meanwhile, add the prawns in a bowl with the orange juice, lemon juice, garlic, soy sauce, salt and pepper and let them marinate for 20 minutes.
Heat 1 Tbsp olive oil in a pan and add the prawns (without the marinade juices). Fry for a few minutes until cooked.
To prepare the dressing, add all ingredients in a jar and shake well.
Add the quinoa, coriander, edamame, spring onion, mint leaves, yellow pepper and cooked prawns in a large bowl, add the dressing and mix well. Add avocado slices on the top and serve.