Roasted pumpkin and bulgur wheat salad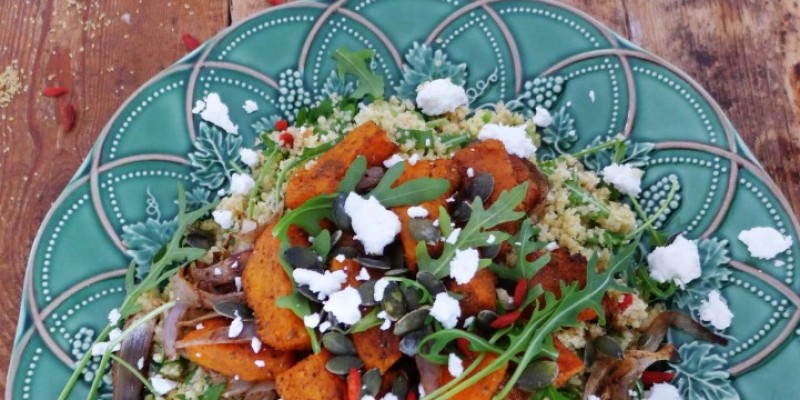 Category:
Salads
|
Vegetarian
Ingredients for the pumpkin
500 grams pumpkin, diced or sliced in medium chunks
1 medium red onion, sliced
2 Tbs olive oil
1/4 tsp cinnamon
1/2 tsp cumin
salt and plenty of freshly grounded black pepper
Ingredients for the salad
3/4 cup "Mitsides" fine, bulgur wheat
2 cups hot vegetable broth (or 1 vegetable stock cube dissolved in 2 cups of boiling water)
1 spring onion, sliced
2 Tbs goji berries (or raisins, or dried cranberries)
2 Tbs olive oil
2 Tbs lemon juice
salt and pepper
About 1 cup fresh rocket leaves
2 Tbs sunflower seeds
About 50 grams goat cheese or feta cheese, crumbled (optional)
1. Preheat oven to 190 C. Put pumpkin and onion in a baking tray, drizzle with the olive oil and season with the cinnamon, cumin, salt and plenty of black pepper. Bake for 20 minutes or until pumpkin is cooked but not mushy. Leave to cool.
2. While pumpkin cooks, put bulgur wheat in a glass bowl and pour over it the hot stock. Leave to soak for 10 minutes. Fluff it up with a fork and put in a larger bowl to cool.
Mix the cooked and cooled bulgur wheat with the spring onion, goji berries, olive oil and lemon juice. Season with salt and pepper. At this stage, the bulgur will improve in taste if you let it stand for a couple of hours before serving. During this time the bulgur will absorb all the flavours and become even yummier. If you are out of time, don't worry, your salad will be fantastic anyway.
3. Mix bulgur wheat with the rocket leaves and arrange in a large platter. Top with the cooked pumpkin and onion. Scatter the pumpkin seeds on top, crumble the goat cheese if using and serve.