Spinach and feta whole meal crepes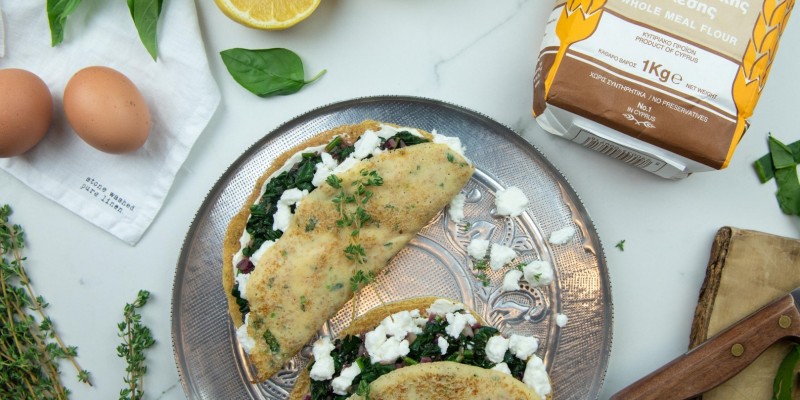 Category:
Breads & Doughs
|
For Kids
|
Vegetarian
For the crepes:
1 cup Mitsides Whole Meal flour
1¼ cups milk
2 eggs
1 Tbsp melted butter or oil
2 Tbsp fresh herbs (basil, thyme, tarragon)
1 tsp Mitsides vegetable powder
For the filling:
3-4 cups baby spinach leaves
¼ cup red onion, grated
1 tsp fresh lemon juice
⅓ cup feta cheese, crumbled
some cream cheese
Olive oil
Salt and pepper
To make the crepes:
Combine the eggs, milk, flour, melted butter and vegetable powder in a blender bowl and blend. When well mixed, add the fresh herbs and blend again. Heat a non-stick frying pan (or pancake pan). Lightly grease with very little oil. Pour 3-4 tablespoons of the batter in the pan and swiftly swirl and tilt the pan to create an even and thin round layer of batter. Let it cook for 20-30 seconds until the top looks dry and using a spatula and your free hand flip the crepe on the other side. Cook for 10 more seconds and transfer to a plate. Repeat until you use the whole batter.
To make the filling:
In the same pan, heat 1 tsp olive oil and add the onion. Cook until softened and then add the spinach a handful at a time until it has wilted. Add lemon juice, salt and pepper. Transfer to a bowl and mix in the feta.
To assemble the crepes:
Take one crepe and spread some cream cheese on half the crepe. Add the spinach mixture and roll or fold.