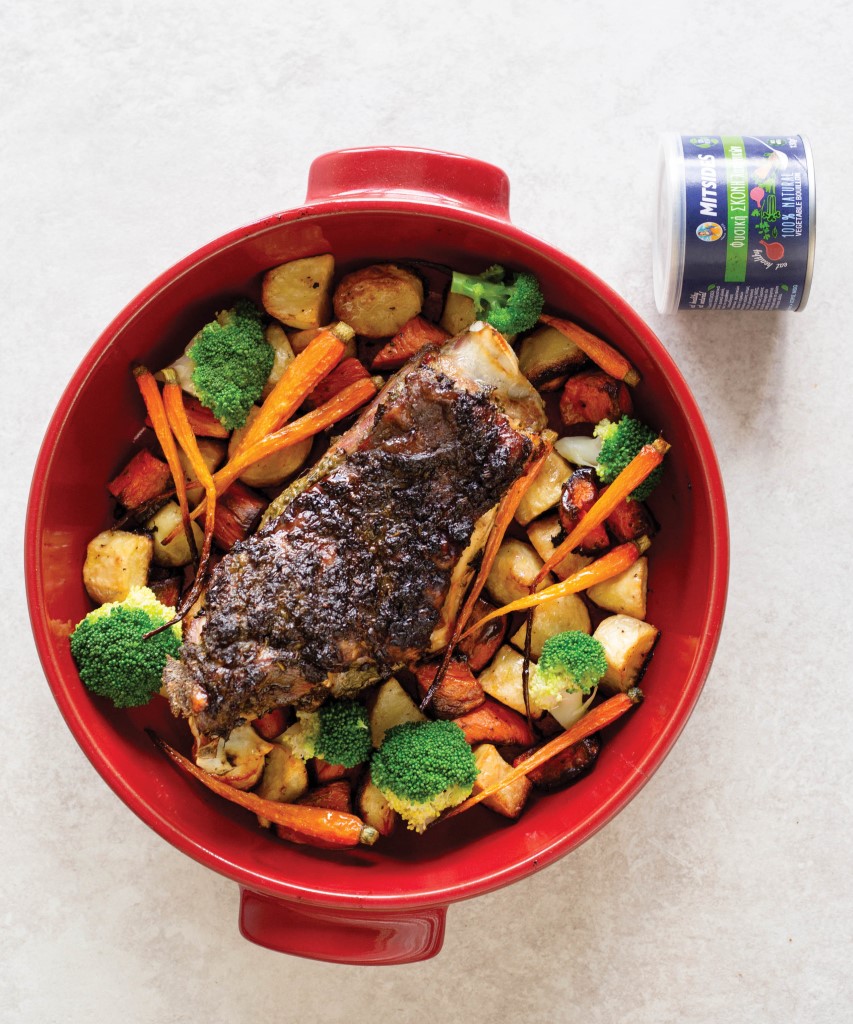 1kg leg of lamb
⅕ cup fresh rosemary leaves
⅓ cup fresh parsley
3 Tbsp fresh thyme
2 shallots, coarsely chopped
2 garlic cloves
2 tsp Mitsides Vegetable Powder
1 Tbsp fresh lemon juice
1 tsp freshly ground pepper
⅓ cup olive oil
1kg potatoes, peeled and cut into quarters
½ broccoli head, large florets only
10 small carrots, peeled and trimmed
salt & pepper
Preheat the oven to 220°C.
In a food processor, add the rosemary and pulse until finely chopped. Add parsley, thyme, shallots, garlic, 1 tsp vegetable powder, lemon juice, ½ tsp salt, ½ tsp pepper and 4 Tbsp olive oil and pulse again until you have a smooth paste. Rub the mixture all over the lamb and place it in a roasting tin with a lid. Let it marinate for 20 minutes.
Place the potatoes and carrots in a bowl. Add 1 tsp vegetable powder, ½ tsp pepper and the remaining olive oil. Mix well to coat and arrange them around the lamb in the roasting tin.
Cover with the lid. If you don't have a lid cover with aluminum foil.
Bake covered for 40 minutes. Uncover, add the broccoli and mix it with the potatoes and carrots. Return the roasting tin in the oven and cook for 15-20 minutes until the skin is crispy and the vegetables are well cooked. Remove from the oven, cover with foil and let is rest for 10 minutes.