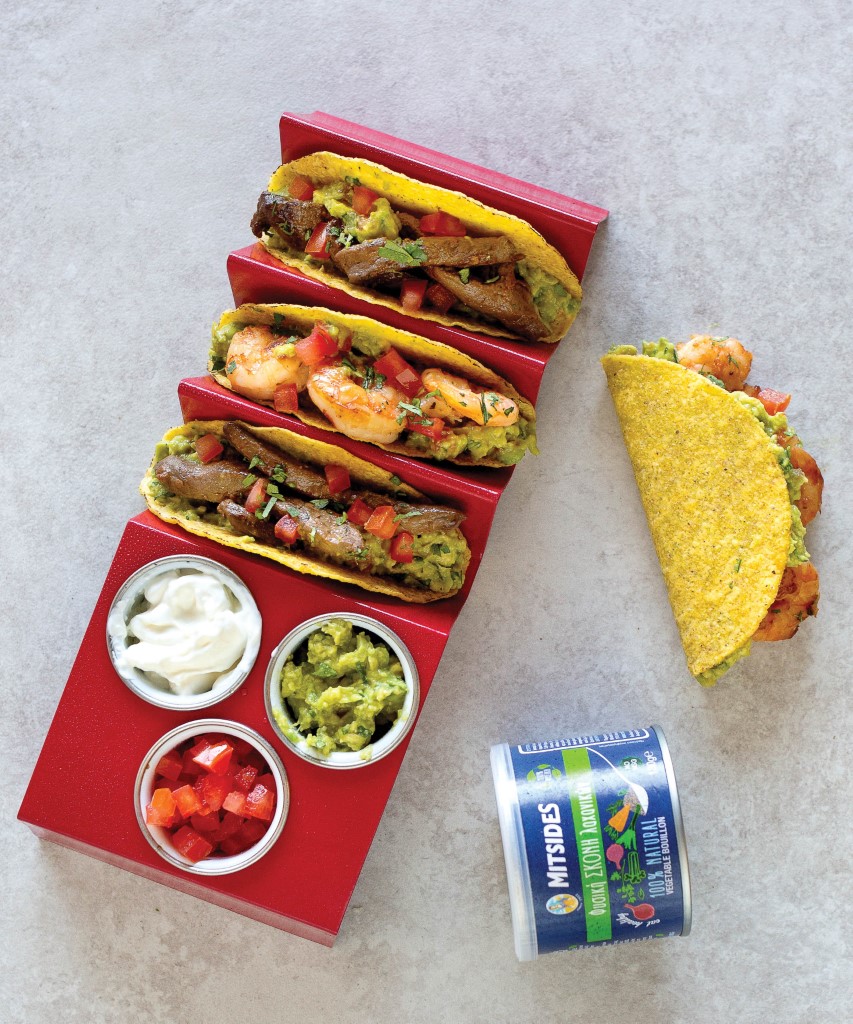 6 corn tacos
9 large prawns
100g beef fillet, cut in strips
1 tsp Mitsides Vegetable Powder
½ tsp smoked paprika
2 Tbsp lemon juice
2 Tbsp olive oil

For the guacamole:
2 ripe avocados
½ small onion, chopped
2 tomatoes, chopped
1 garlic clove, minced
3 Tbsp fresh coriander, chopped
Juice of ½ lime or lemon
Salt & pepper
To prepare the marinade, mix together the vegetable powder, smoked paprika, lemon juice and olive oil. Divide the marinade in 2 separate bowls and add the prawns and beef strips separately in each bowl. Let them marinate for at least 15 minutes.
To make the guacamole, mash the avocados in a bowl, add the remaining ingredients and mix. Add salt and pepper to taste.
Heat a large frying pan and add the prawns. Cook for 1 minute on each side until cooked. Remove and place in a plate. Wipe the pan clean and add the beef strips. Cook for 4-5 minutes until the meat is cooked.
To assemble, take a taco, add a tablespoon of guacamole and top with prawns or beef strips. Add a squeeze of lemon and a few coriander leaves and serve.