Tagliatelle with pumpkin and gorgonzola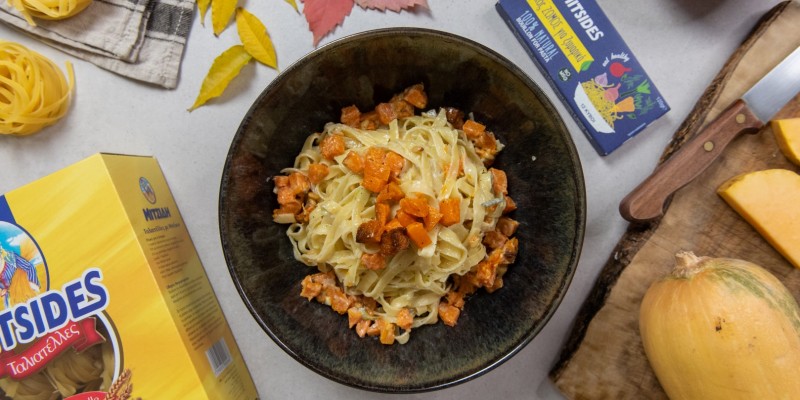 1 pack Mitsides Egg Tagliatelle (500g)
2 cubes Mitsides Bouillon for pasta
1kg pumpkin, cut in 2 cm cubes
300g Gorgonzola cheese, cut in large pieces
2 spring onions, chopped
½ cup fresh cream
1 Tablespoon butter
1 Tablespoon olive oil
1 Tablespoon honey or maple syrup
1 Tablespoon pine nuts
Salt and pepper
Preheat the oven to 180°C. On a baking tray lined with parchment paper add the pumpkin pieces. Drizzle with some olive oil and season with salt and pepper. Mix well and bake for approximately 40 minutes, until pumpkin is cooked and slightly browned.
In a saucepan with plenty of boiling water add the bouillon cubes. When dissolved, add the pasta and cook following pack instructions. When ready, drain.
Meanwhile, in a large and deep frying pan, melt the butter and olive oil. Add the spring onions. Add the gorgonzola and mix until the cheese has melted. Add the fresh cream, honey and pepper. Add the drained pasta and mix well. Add the pumpkin and pine nuts, mix and serve immediately.