Tortellini with Spicy Eggplant Sauce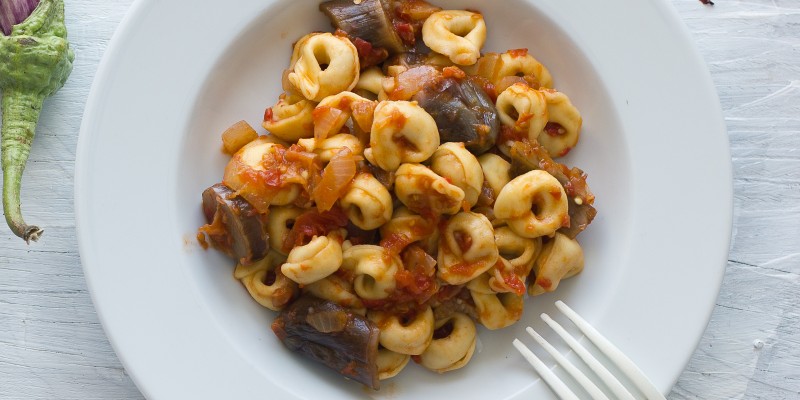 Category:
With Meat & Poultry
1 pack Mitsides Cured Ham Tortellini
6 tbsp olive oil for frying
6-7 small eggplants
2 garlic cloves
2 onions
425g small cherry tomatoes
2 medium plum tomatoes
1-2 tbsp sugar
1 tsp red pepper flakes
Salt & pepper to taste
Grated parmesan cheese to garnish
1. In a food processor, blend together all the tomatoes.
2. Slice the eggplant into 1cm thick slices, and chop them in half. Heat about 5 tbsp olive oil in a saucepan. Add the eggplant and fry for about 30 seconds, ensuring that eggplant has been coated in olive oil. Remove from the pan and drain on paper towel.
3. Add 1 tbsp olive oil to the saucepan. When hot, saute the garlic and onions for about 1 minute. Add the eggplant back into the saucepan and pour in the tomato puree.
4. Add 1-2 tbsp of sugar to the mixture, 1 tsp red pepper flakes and salt & pepper to taste.
5. Reduce heat and cook for about 40 minutes, stirring occasionally until the mixture has become a sauce. (Optional: once cooked, let the sauce cool, and blend in a food processor for a smoother sauce.)
6. Boil the tortellini in salted water until cooked. Drain, add the sauce and stir. Garnish with grated parmesan cheese.