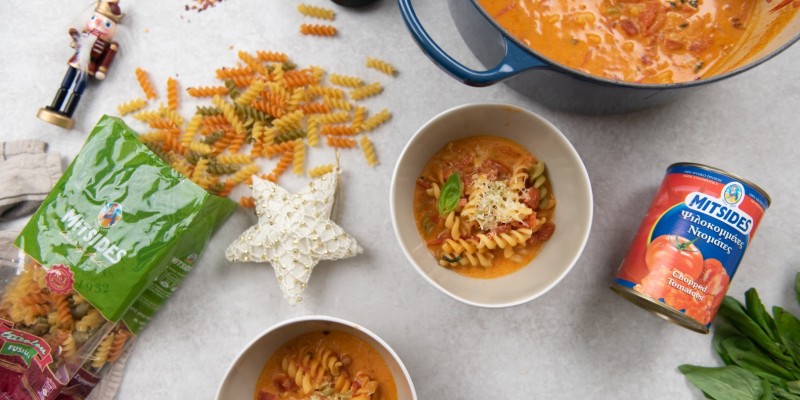 Category:
Soups
|
With Meat & Poultry
1 can Mitsides Chopped Tomatoes 400g
½ pack Mitsides Tricolore Fussili
1 Tbsp butter
500g cherry tomatoes, quartered
300g gruyere cheese, grated
100g pancetta, chopped (optional)
1 onion, chopped
2 ltr boiling water mixed with 2 cubes Mitsides Chicken Bouillon added
1 cup sour cream
1 Tbsp fresh basil, chopped
½ tsp red pepper flakes
Salt & pepper
1 tsp Mitsides Vegetable Powder
In a large pot, sauté the pancetta. Once the pancetta starts to release its oils, add the butter and onion and cook until soft. Add the tomatoes, vegetable powder, salt and pepper and cook for 10 minutes. Then add half of the water and cook on low heat for 1 hour. Add the remaining water. When it starts to boil, add the pasta, cheese and red pepper flakes and mix well. Add the sour cream and basil. Cook for 10 more minutes until the pasta is cooked.  Serve topped with some more grated cheese and basil.