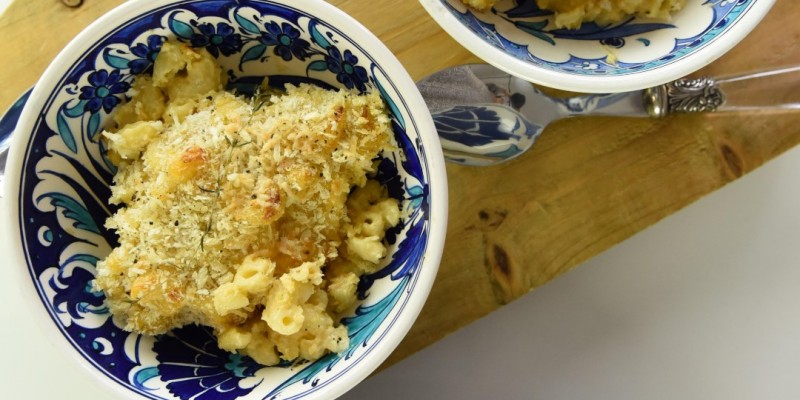 Category:
Oven Dishes
|
Vegetarian
1 pack Mitsides Shrimp pasta (500g)
100g butter
¼ cup Mitsides Plain Flour
3 cups whole milk
1 cup Gruyere cheese, grated
1 cup Mature Cheddar cheese, grated
½ cup Mascarpone cheese
¼ cup Parmesan cheese, grated
3 Tbsp white truffle oil
4 garlic cloves, finely minced
½ teaspoon paprika
¼  teaspoon nutmeg
1 cup panko breadcrumbs
Fresh thyme for garnish (optional)
Salt and pepper
Preheat oven to 180°C.
Butter a large rectangular baking dish and set aside.
Cook pasta following pack instructions until al dente. Drain, toss with a little olive oil and set aside.
In a large pot over medium heat, melt the butter. Add the garlic and cook for about 30 seconds. Sprinkle flour over butter and whisk together. Continue to whisk for 2-3 minutes.
Very gradually, pour in milk while whisking. This needs to be done slowly to keep the sauce from getting lumpy.
Once all milk is added, add the paprika, salt, pepper and nutmeg. Whisk to combine. Add the mascarpone and whisk until incorporated. Start adding the grated gruyere, cheddar and parmesan, a handful at a time. After adding one handful, whisk until cheese is fully incorporated before adding more. Continue this until all cheese has been added- save 1 handful of cheese for later. Add 2 tablespoons of truffle oil and whisk until fully incorporated.
Add the cooked pasta and stir to fully coat pasta with the cheese sauce.
Pour pasta into the  prepared baking dish. Top with panko breadcrumbs and remaining cheese. Drizzle remaining truffle oil over the breadcrumbs.
Bake in the oven for about 35 minutes, until breadcrumbs are golden.