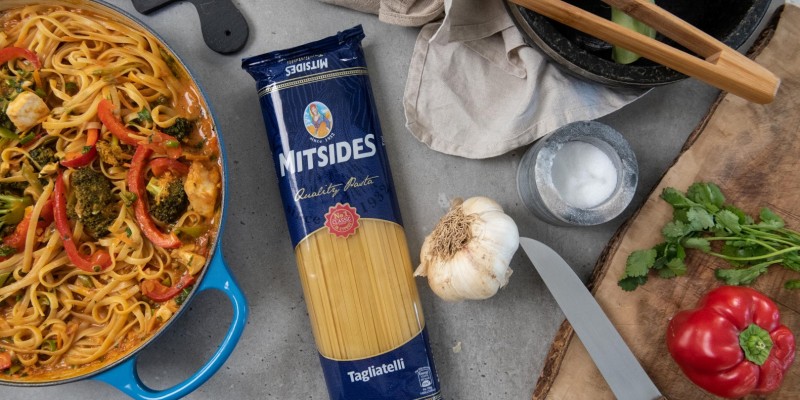 For the tofu:
1 block extra firm Tofu
1 Tbsp cornstarch
1 Tbsp olive oil
1 Tbsp Soy sauce
For the curry:
1 pack Mitsides Tagliatelli
2 cubes Mitsides Vegetable Bouillon
1 Tbsp coconut oil
2 small shallots, chopped finely
2 garlic cloves, minced
2 Tbsp fresh ginger, grated on minced
2 Tbsp Thai red curry paste
3 cups various vegetables of your choice (bell peppers, broccoli, carrots, snap peas, zucchini, mushrooms, cauliflower, etc)
1 can full-fat coconut milk (400g)
½ cup water
3 Tbsp Soy sauce
1 tsp turmeric
2 Tbsp coconut sugar
A pinch of salt
2 Tbsp lime juice 
To garnish:
Chopped fresh coriander, chopped fresh basil, chopped spring onion
Prepare the tofu: Preheat the oven to 200°C. Place a kitchen towel on the tofu and press to remove any water. Cut the tofu into small pieces and mix with olive oil, soy sauce and cornstarch. Spread cubes evenly on a piece of parchment paper and bake for 20-30 minutes, until golden brown and crispy.
In a large pan with plenty of boiling water add the vegetable bouillons. When dissolved, cook the pasta following pack instructions.
To prepare the curry, in a large and deep frying pan, heat coconut oil over medium heat, then sauté shallot, ginger, and garlic until fragrant and softened, for about 2-3 minutes.
Add curry paste and cook for one minute, then add the vegetables, stirring for 1-2 minutes until softened. Add coconut milk, water, soy sauce, turmeric, sugar, salt, and the drained cooked pasta. Simmer for another 2-3 minutes.
Add the lime juice and mix. Top with the tofu, coriander, basil, and chopped green onions.