Veggie crusted chicken fingers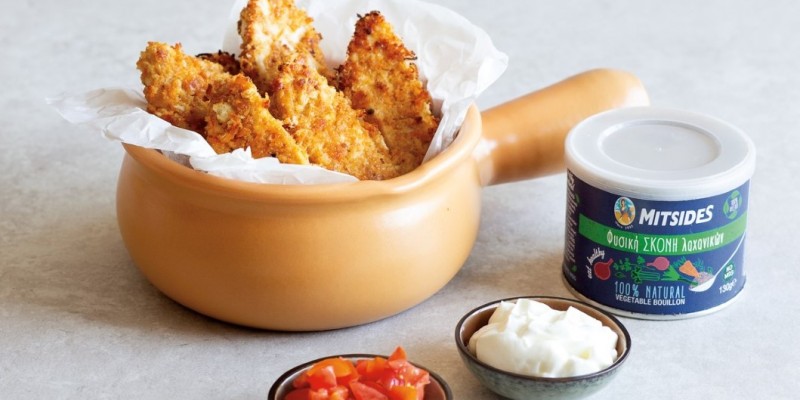 Category:
For Kids
|
Oven Dishes
|
With Meat & Poultry
2 chicken breasts, cut in long strips
1 large carrot, grated
1 medium sized cauliflower, cut in florets
1 tsp Mitsides vegetable powder
1 tsp Five Spice Powder
½ cup halloumi, grated
½ cup panko breadcrumbs
¼ cup breadcrumbs
2 Tbsp Olive oil
Chicken marinade:
1 egg, beaten
½ cup yogurt
¼ olive oil
Place the marinade ingredients in a bowl and mix well. Add the chicken and mix to coat. Set aside or place in the fridge for at least 30 minutes.
Preheat the oven to 180°C. Line a large baking tray with parchment paper.
Place the cauliflower florets in a food processor. Pulse until they have the consistency of fine rice. Heat a large skillet and add the cauliflower. Dry fry for 10 minutes, mixing constantly until cauliflower is slightly browned and soft. Let it cool.
Place the carrot and cauliflower in a kitchen towel and squeeze a few times to get rid of all excess liquids. Transfer to a large bowl and add the vegetable powder, five spice powder, halloumi, olive oil, panko and breadcrumbs. Mix well.
Take a piece of chicken and place it in the cauliflower mix. Coat well and place it on the baking tray. Repeat until all chicken fingers have been coated well.
Bake in the middle of the oven for 20 minutes (10 minutes each side).