Whole Meal Tortillas with Coriander Pesto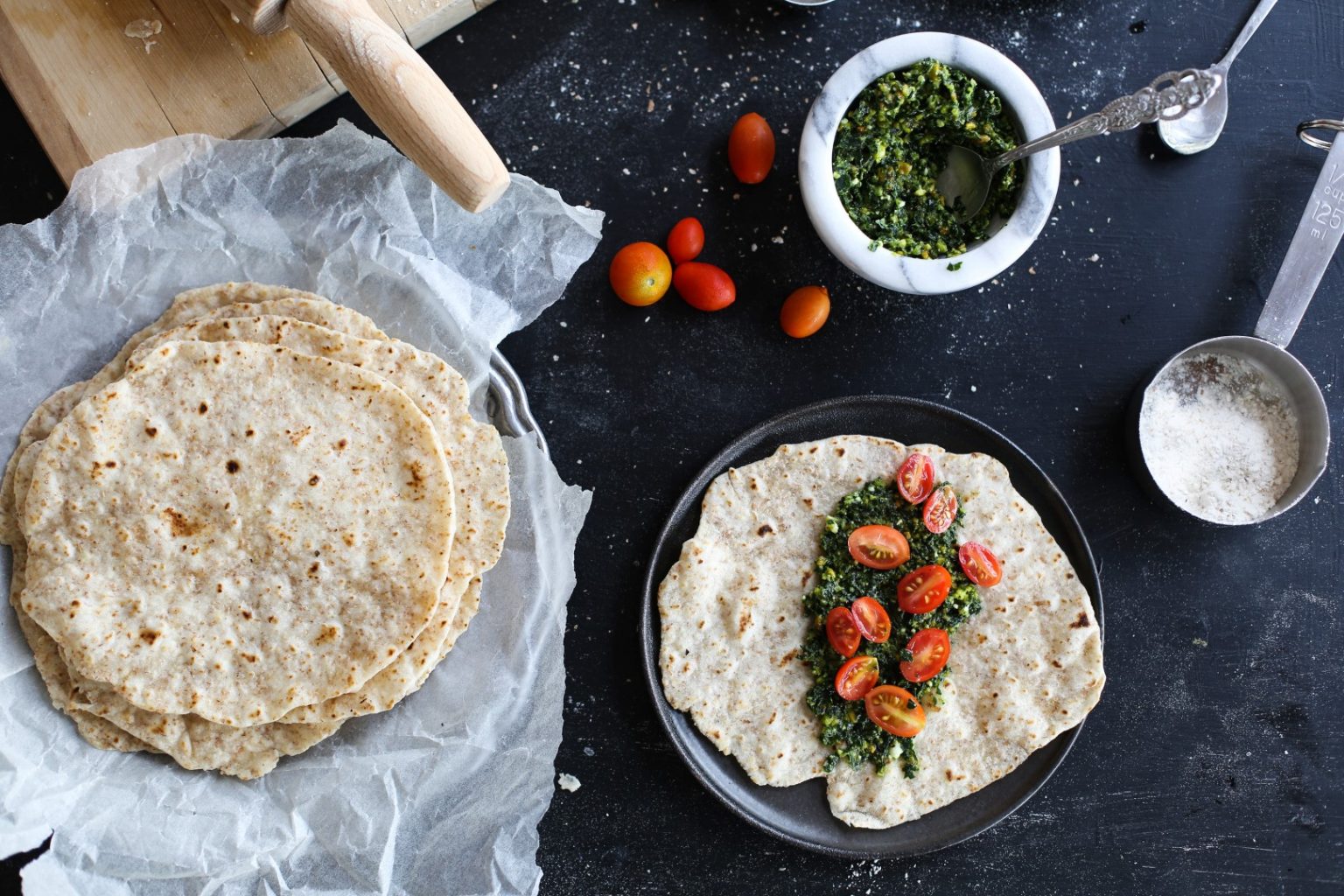 2 cups of Mitsides Whole Meal Flour
1/2 tsp of salt
1/2 tsp of baking powder
30 grams of vegetable shortening
30 grams of butter
3/4 cup of hot to lukewarm water
For the pesto:
2 & 1/2 cups fresh coriander (a large bunch)
2 garlic cloves
50 grams hazelnuts
half lemon, juice
1/4 cup parmesan cheese
5 tablespoons olive oil
salt & pepper to taste
parmesan cheese to garnish
Make the pesto:
1. Roast the hazelnuts in the oven for 10 minutes on 180C. Allow to cool.
 
2. In a food processor blend the hazelnuts, coriander, garlic, 1/4 cup parmesan cheese and olive oil. Squeeze about 1 tbs of fresh lemon juice on top and add salt & pepper to taste. Pulse to combine.
Make the tortillas:
1. Put all of the dry ingredients in a large bowl and mix together.
 
2. Add the vegetable shortening and butter to the flour and mix it together with your fingers until the mixture feels like fine breadcrumbs.
 
3. Add the water slowly, mixing it until you have created an elastic dough. Chop the dough into about 9 golf sized pieces.
 
4. Cover these golf sized pieces with a towel in the bowl and let them rest for about 20 minutes.
 
5. Roll out each piece of dough into a thin circle. Add to an already hot frying pan on medium-high heat for about 8-10 seconds on each side. The dough will rise, puff up and create bubbles which is normal – it's a sign to flip them over to cook the other side.
 
6. Place them in a basket to keep them warm.