Whole wheat noodles with salmon and veggies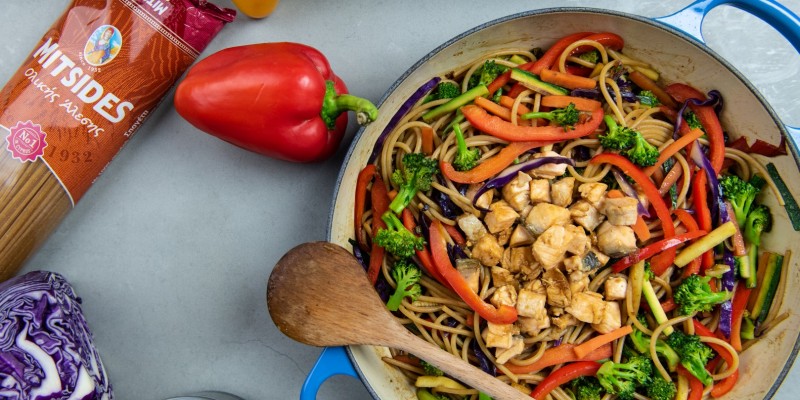 1 pack Mitsides Whole Wheat Spaghetti (500g)
2 cubes Mitsides Bouillon for pasta
2 skinless salmon fillets
2 spring onions, chopped
1 red pepper, deseeded and cut in thin strips
1 carrot, cut in thin strips
1 zucchini, cut in thin strips
1 cup broccoli, cut in small florets
½ cup purple cabbage, thinly sliced
2 Tbsp mirin
2 Tbsp sesame oil
 
For the dressing:
3 Tbsp dark soy sauce
2 Tbsp light soy sauce
1 Tbsp sesame oil
1 Tbsp maple syrup
In a large pot with boiling water add the bouillon cubes. When dissolved, add the pasta and cook following pack instructions until al dente.
 
In a large skillet, heat 1 Tbsp sesame oil and add the salmon fillets. Cook for 3-4 minutes until almost cooked and remove from the pan. Add remaining 1 Tbsp sesame oil and add the vegetables. Cook until slightly softened and add the mirin sauce. Add the salmon back to the pan and break in pieces with a fork.
 
Meanwhile, mix all dressing ingredients together.
 
Add the pasta to the pan with the salmon and vegetables. Add the dressing and mix well. Serve hot.