Yiayia Corinna's mushroom pies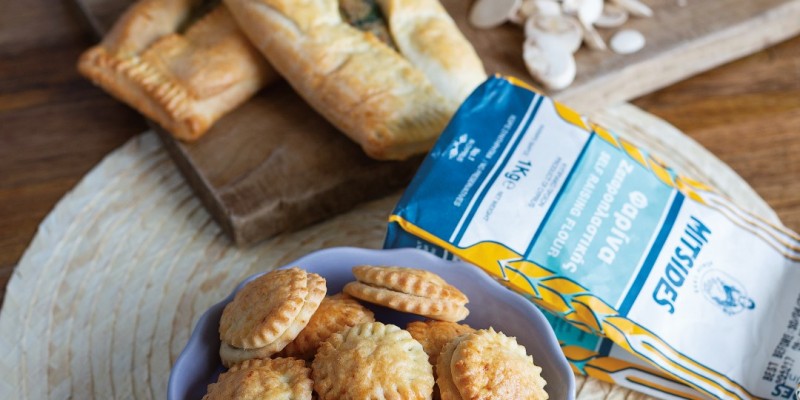 Category:
For Kids
|
Oven Dishes
|
Pastries & Sweets
1 cup Mitsides Plain flour
1 cup Mitsides Self-Raising flour
1½ teaspoon baking powder
1 cup unsalted butter
1 cup yogurt (strained)
½ teaspoon baking soda
2 eggs, beaten
For the filling:
500g mushrooms
1 small onion, chopped
1 sweet potato, cooked and mashed
½ cup grated cheese that melts (e.g. cheddar)
Freshly ground pepper
1 tsp olive oil
Preheat the oven to 180°C. In a large frying pan heat the olive oil and add the onion. When softened, add the mushrooms and some pepper. Cook on high heat until all liquids have evaporated. Add the cheese and sweet potato, mix well and let it cool.
 
To make the dough, mix all ingredients together in a mixer until a dough is formed. Cut the dough in smaller pieces and roll out each piece using a rolling pin. The thickness of the dough sheets should be 2-3mm. Using a cookie cutter cut the dough in round shapes of 4-5cm diameter. Place a teaspoon of the mushroom filling in the centre of half the round dough pieces and cover them with the remaining dough pieces. Press the sides with a fork to seal and brush with egg.
Place on a baking tray lined with baking paper and bake for 20 minutes or until slightly browned.