Aubergine rolls stuffed with bulgur and herbs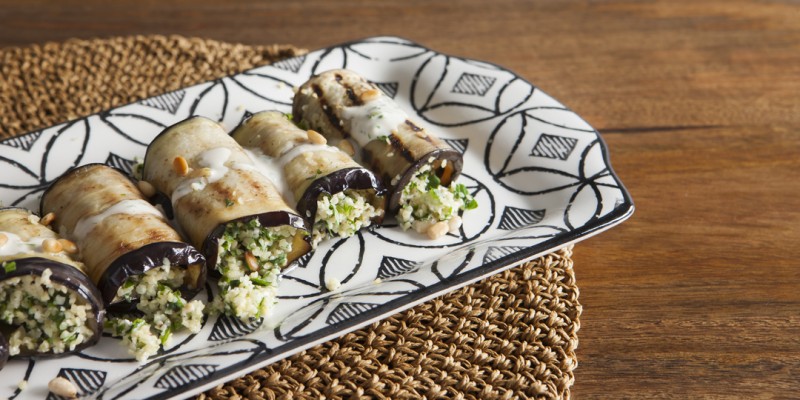 2 large aubergines
1 cup Mitsides Fine Bulgur
1/3 cup coriander, chopped
1/3 cup fresh mint, chopped
1/3 cup parsley, chopped
½ cup feta cheese, crumbled
1/3 cup pine nuts, toasted
1 garlic clove, roasted and minced
1 spring onion, chopped
1 Tbsp Olive oil
1 tsp white wine vinegar
sunflower oil for frying
1 tsp Mitsides vegetable powder
1tsp thyme
Tahini sauce:
2 Tbsp raw tahini
juice of ½ lemon
½ tsp garlic powder
1 tsp maple syrup or honey
1 Tbsp soy sauce
2 Tbsp water
Mix all ingredients together
Soak the fine bulgur in a bowl with plenty of hot water and vegetable powder for about 15 minutes. Cut the aubergines lengthwise approximately 3mm thick. Place in a large bowl of water with some salt and let them soak for a few minutes.
Drain the bulgur well and mix with all herbs, feta, pine nuts, spring onion, garlic, olive oil and wine vinegar, salt and pepper.
In a large frying pan add sunflower oil with 1cm height. When the oil is hot add the aubergines one by one without overcrowding them. When both sides are golden brown transfer to a plate lined with kitchen paper. Continue frying the aubergine slices until you have fried all of them. Let them cool and press with kitchen paper to remove excess oil.
Take an aubergine slice and lay it flat. Add a spoon of the bulgur mixture at the wide part of the aubergine and roll up.
Drizzle with tahini sauce.