Bulgur with white fish and coconut milk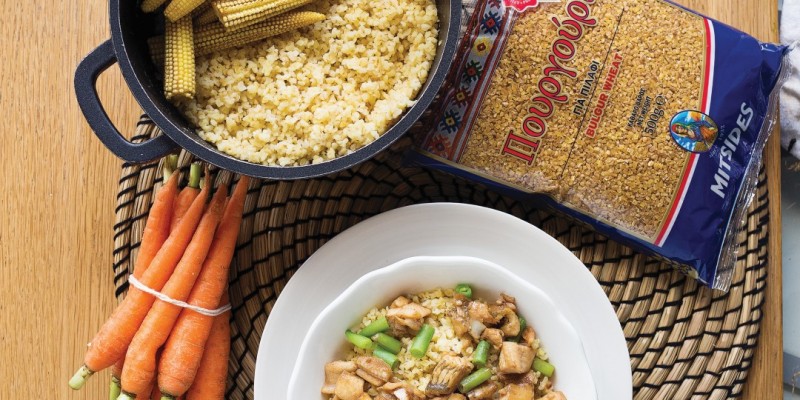 Category:
For Kids
|
Vegetarian
|
With Seafood
1 cup Mitsides Bulgur (blue pack)
1 cod fillet (approx. 200g)
2 cups fish broth or vegetable broth
1 cup coconut milk (in carton box)
2 tsp coconut oil
½ cup frozen green beans, defrosted and cut in 1 cm pieces
To marinate the fish:
4 Tbsp tamari (low sodium soya sauce)
4 Tbsp water
1 tsp coriander powder
½  tsp ginger powder
½  tsp garlic powder
First, marinate the fish. Mix all marinade ingredients in a bowl and add the fish. Coat the fish with the marinade and keep in the fridge for at least 45 minutes. In the meantime, to prepare the bulgur, heat the coconut oil in a saucepan. When hot, add the bulgur and stir to coat with the oil. Continue for 2-3 minutes until it releases a nice fragrance. Add the stock and coconut milk, cover the pan and cook for about 10 minutes. Add the green beans, add more stock or water if needed and cook for another 5 minutes.
Heat a small frying pan and add the fish fillets together with 2 teaspoons of the marinade. Cook each side for 2-3 minutes. Place the fillets on a plate and cut them in small pieces. Add them to the bulgur and mix well. Serve in bowls.