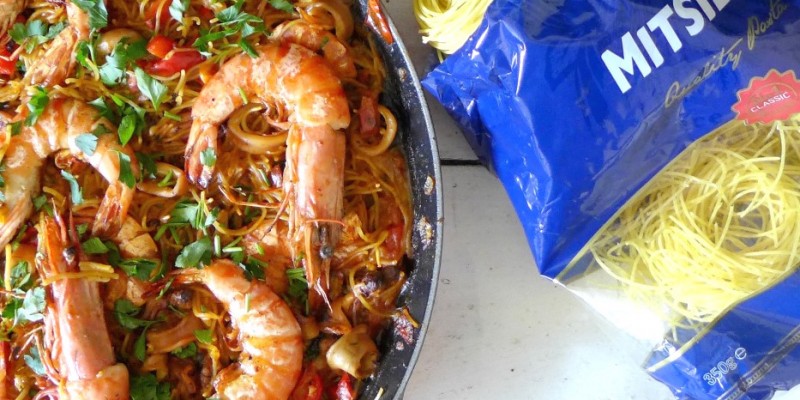 Category:
Oven Dishes
|
With Seafood
¼ cup olive oil
1 Tbs unsalted butter
20 king prawns (14 peeled and 6 left whole with head and tail)
500 grams baby calamari, sliced in 2cm rounds
1 large onion, finely chopped
3 garlic cloves, crushed
1 red bell pepper, sliced
1 cup fresh tomatoes, chopped
1 Tbs tomato paste
1 cup white wine
1 tsp smoked paprika
1/8 tsp cayenne pepper
A pinch of saffron threads
¼ cup chopped parsley
1 X 350 grams pack "Mitsides" noodle nests
3 cups fish stock (use vegetable stock if you don't have fish stock. I made my stock using the heads and tails of the peeled prawns).
Salt and freshly ground black pepper to taste.
1. Preheat oven to 200 C. Heat the oil and butter in a paella pan or a large frying pan, over high heat. As soon as butter melts, add the unpeeled prawns and fry for 2 minutes until their colour changes and they are cooked through (don't overcook them otherwise they will harden). Take prawns out in a bowl.
2. Put the calamari in the pan and fry for 1 minute, stirring frequently until its pale in colour and cooked. Take calamari out of the pan in a bowl.
3. Reduce heat to medium-high and add the onion, garlic and red pepper. Cook stirring for about 2-3 minutes until onion and peppers are soft. Add chopped tomatoes and cook for about a minute, until tomatoes release their juices. Add tomato paste, wine, paprika, cayenne, saffron threads and parsley. Stir everything together and boil for half a minute.
4. Lower heat to medium-low and add the noodles all the way around the pan (put more on the outer rim of your pan and less in the centre, as they tend to cook quicker), crushing the nests as you go. Return the calamari in the centre of the pan and add the uncooked, peeled prawns. Pour over the broth and simmer uncovered for 3 minutes. Don't stir the noodles; just use your cooking spatula to push them down into the broth.
5. Put the cooked, unpeeled prawns on top of your fideua. Transfer your pan in the oven (see note) and cook 6-7 minutes until the noodles absorb the juices, and start to become crisp in places. Take out of the oven and check your dish. The pasta noodles should be cooked but not mushy. If your dish seems too dry, add a little water.
6. Garnish with some chopped parsley and serve at once with lemon wedges.
Note: You can cook your Fideuà entirely on the stove. Simmer uncovered, about 7-8 minutes until your noodles are cooked and juices are absorbed.