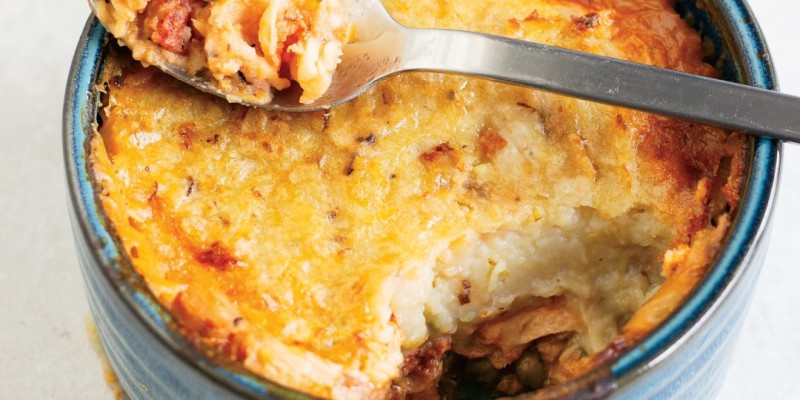 Category:
For Kids
|
Oven Dishes
|
With Seafood
5-6 medium sized potatoes, peeled and cut into small pieces
½ cup white beans, cooked
½ cup milk
5 Tbsp butter
1 leek, white and light green parts only, sliced
1 medium zucchini, grated and juices squeezes out
¼ cup peas
1 garlic clove, minced
½ can Mitsides Chopped Tomatoes (200g)
1/3 cup heavy cream
2 pieces of white fish (cod, haddock or halibut), cut in pieces
1 piece salmon, cut in pieces
6-7 large prawns, cleaned and halved
Preheat the oven to 180°C. In a medium sized saucepan boil the potatoes in salted water until soft. Drain and return to the pan.
 
In the meantime, in a large skillet, heat 1 Tbsp butter and add fry the leek until softened. Add the leek to the drained potatoes. Also add the beans, milk and 2 Tbsp butter and mash. Add salt and pepper as desired.
 
Wipe the skillet clean and add the remaining 2 Tbsp butter. When melted, add the zucchini and cook for 5-6 minutes. Add the garlic and 2 minutes later add the chopped tomatoes. Add the white fish and salmon. Season with salt and pepper and cook for about 2-3 minutes. Add the shrimps and cook for 1-2 minutes more. Remove from heat, add the heavy cream and stir to mix well. Transfer the mixture to an oven proof dish. Top with the mashed potato mixture and spread evenly. Bake in the oven for about 40 minutes until the potatoes turn golden brown.