Herby bulgur and lemon chicken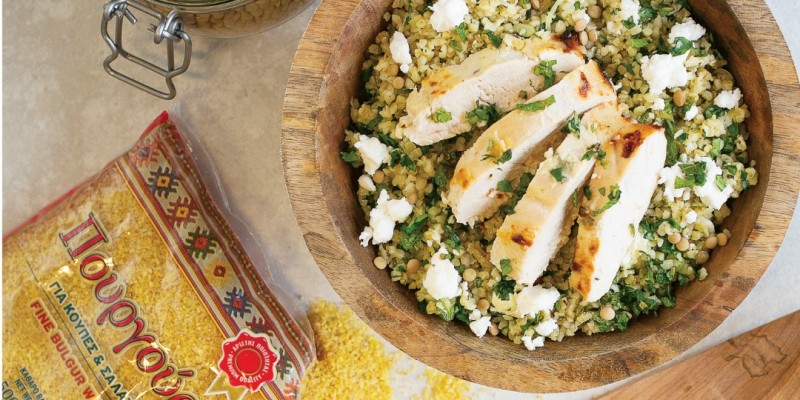 Category:
For Kids
|
With Meat & Poultry
1 cup Mitsides Bulgur
1 cube Mitsides Vegetable Bouillon
½ cup fine lentils, cooked
1/3 cup coriander, finely chopped
1/3 cup fresh mint, finely chopped
1/3 cup parsley, finely chopped
1 whole spring onion, finely chopped
1 tsp thyme, finely chopped
½ cup feta cheese, crumbled
¼ cup olive oil
2 Tbsp white wine vinegar
salt and pepper
4 chicken breasts
For the chicken marinade:
½ cup yogurt
2 Tbsp lemon juice
1 Tbsp dry mint
1 tsp Mitsides Vegetable Powder
2 Tbsp olive oil
Place all marinade ingredients in a bowl and mix well with the chicken until fully coated. Let it marinate for at least 30 mins, or preferably overnight in the fridge!
 
Preheat the oven on the GRILL setting. You will need your oven tray with the oven rack on top. Grease the oven rack with oil and place the chicken breasts on the rack. Cook for 20-30 minutes until cooked through.
 
In a medium sized saucepan with 3 cups of boiling water add the vegetable cube. When dissolved, add the bulgur and cook on medium heat until water has been absorbed. Cover with a towel and let sit for 10 minutes. Transfer the bulgur in a large bowl. Add the lentils, chopped herbs, spring onion, feta, olive oil, vinegar, salt and pepper and mix well.
 
Serve the bulgur in deep plates, with a chicken breast on top.