Lentils with bulgur wheat and vegetables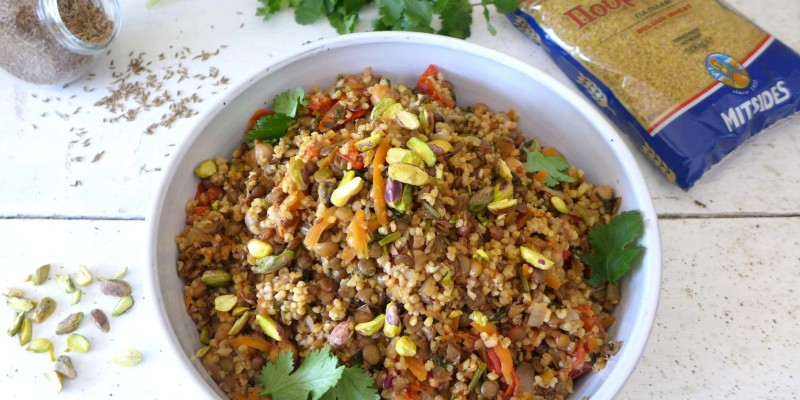 1 cup brown lentils, rinsed
1 tsp cumin seeds
4 Tbs olive oil
1 clove garlic, crushed
1 medium red or yellow onion, chopped
1 medium carrot, coarsely grated
1 cup cherry tomatoes, halved
1 cup "Mitsides" bulgur wheat (blue pack)
1 cup cooked and drained chickpeas, from a carton or can
2 cups chopped fresh coriander
salt and pepper
2 Tbs chopped pistachios, to garnish
1. Put lentils and 4 cups of water in a pot. Add salt and bring to boil. Lower the heat, and simmer covered, until lentils are cooked (don't overcook your lentils, they shouldn't be mushy. Taste them, as cooking times depend on how old your lentils are). Drain lentils but keep their water. You should have 2 cups of lentil cooking water. If you have less, add some water to reach two cups.
2. In a large pot, put the olive oil, over medium-high heat. Add the cumin seeds and stir-fry for a minute, until fragrant and slightly darker in colour (don't burn seeds, otherwise they will taste bitter). Add the garlic, onion and carrot and cook stirring for about 2 minutes, until onion is soft. Add the cherry tomatoes and cook about a minute longer.
3. Add the bulgur wheat, chickpeas and fresh coriander. Give it a stir to mix the wheat, then add the lentils and the 2 cups cooking liquid. Mix everything together and season with salt and pepper.
4. Adjust heat to low, cover the pot and simmer for 10 minutes. Take pot off the heat and leave to stand covered for 20-30 minutes. During this time, the bulgur wheat will absorb all the aroma's and juices and will become really flavorful.