Mexican Tortilla cups with meat and veggies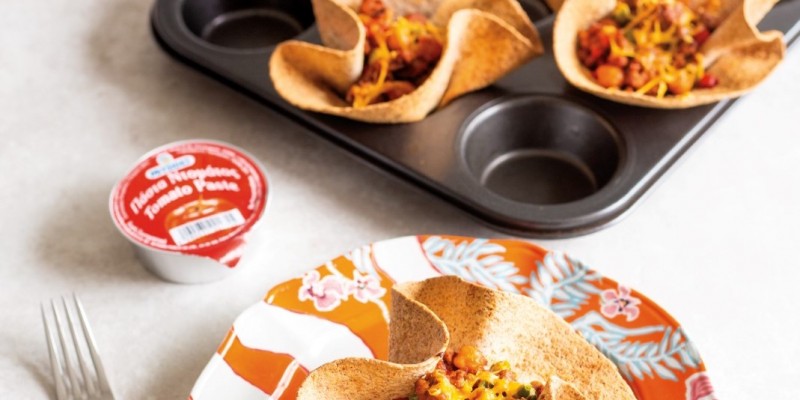 Category:
For Kids
|
Oven Dishes
|
With Meat & Poultry
6 small whole wheat tortillas
250g minced beef
1 onion, chopped
1 tsp Mitsides Tomato Paste
1 red bell pepper, chopped
1 cup peas, defrosted
1 cup chickpeas, cooked
1 tsp paprika
½ tsp cumin
1 tsp Mitsides Vegetable Powder
Pepper
Olive oil
½ cup cheddar cheese, grated
Preheat the oven to 180°C. Grease 6 cups of a cupcake baking tray. Take one tortilla and crease it to create a flower shape. Place it in one of the cups and press the base down. Repeat by placing all the tortillas in the remaining cups. Bake in the oven for 10 minutes.
In the meantime, in a large skillet, heat some olive oil and add the onion. When softened, add the minced meat and cook for 6-7 minutes until golden brown and cooked through. Add the tomato paste, red bell pepper, peas, chickpeas, paprika, cumin and vegetable powder. Add pepper if you like. Cook for 10-15 minutes until set.
Divide the mixture into the tortilla cups, sprinkle with the cheddar cheese and cook in the oven for about 5 minutes or until cheese has melted.