Mushroom Tortelloni with Beef Stroganoff Sauce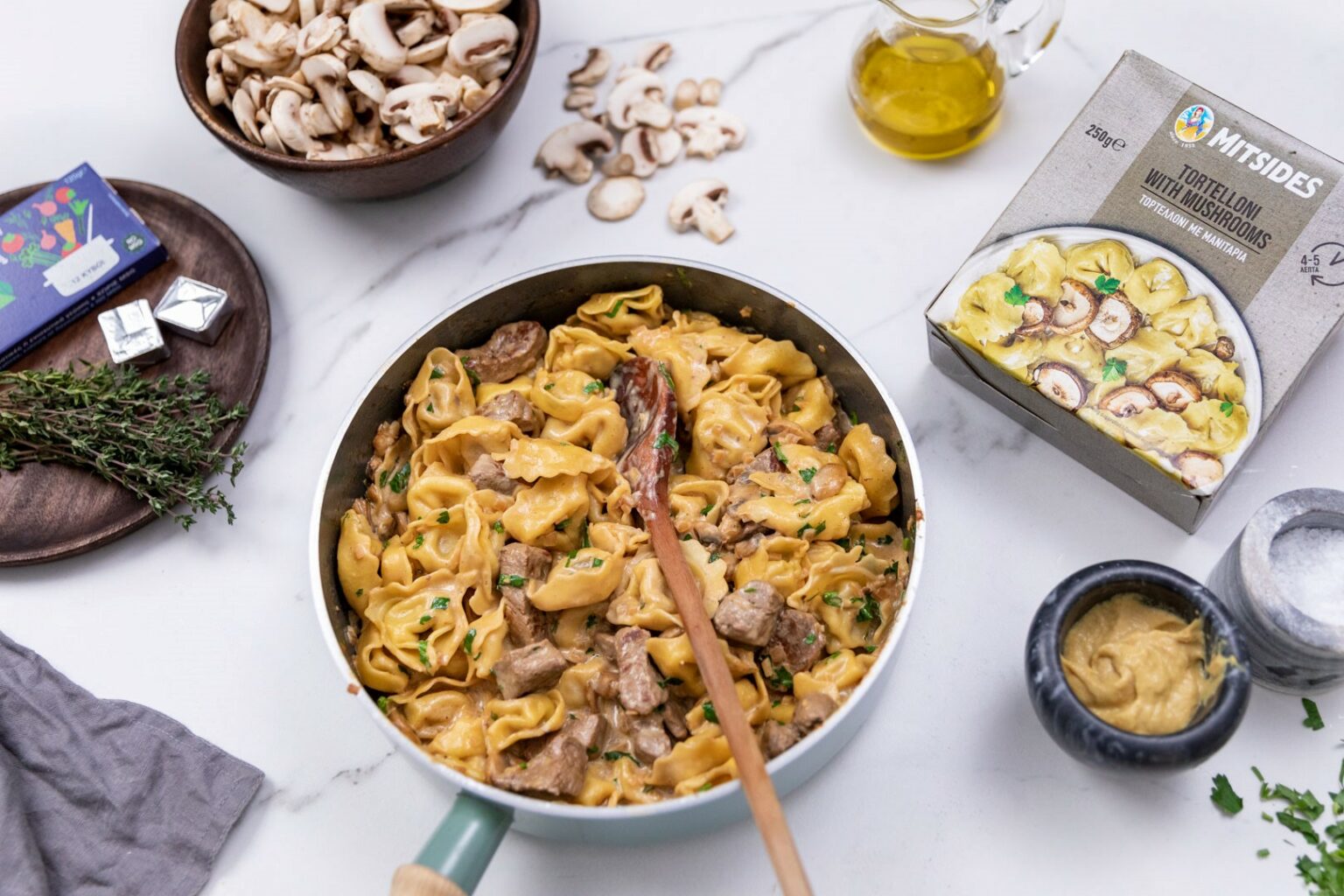 Category:
With Meat & Poultry
2 packs Mitsides Mushroom Tortelloni (frozen)
500g beef tenderloin, cut into 2cm cubes
1 cup mushrooms, chopped
2 Tbsp butter
2 shallots, finely chopped
1 sprig fresh thyme, the leaves
2 cloves garlic, chopped
240ml broth (1 cube Mitsides Vegetable Bouillon dissolved in 240ml hot water)
4 Tbsp cognac
¼ cup fresh cream
1 Tbsp Dijon mustard
Salt & Pepper to taste
Chopped parsley, to garnish
Grated parmesan, to garnish
In a large pan over high heat, brown the meat for about 1 minute on each side. Remove and transfer to a plate. Cover to keep warm.
In the same pan over medium heat, melt the butter. Add the chopped shallots, thyme and garlic. When softened add the mushrooms, salt and pepper and cook until tender. Add the broth and the cognac. With a wooden spoon, scrape the bottom of the pan to release the browned bits and release their flavor. Simmer and reduce the liquid by half, about 10 minutes.
While the sauce is reducing, in a medium sized saucepan with salted boiling water add the tortelloni and cook following package instructions. Drain and set aside.
Once the sauce has reduced by half, whisk in the cream and mustard, then add the meat. Add the tortelloni and gently stir to coat the pasta in the sauce. Serve with parsley and grated parmesan.