One pan Lemon chicken and Orzo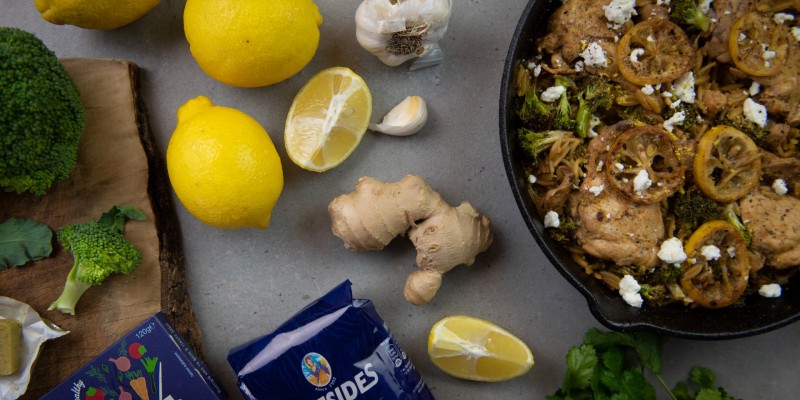 Category:
Oven Dishes
|
With Meat & Poultry
500g boneless chicken thighs
1 lemon, sliced
2 tablespoons butter
1 cup Mitsides orzo pasta
1 garlic clove, minced
⅓ cup white wine
2 ½ cups boiling water
2 cubes Mitsides vegetable or chicken bouillon
1 cup broccoli florets
zest and juice of 1 lemon
2-3 Tablespoons feta cheese, crumbled
 
For the chicken marinade:
2 tablespoons olive oil
⅓ cup plain Greek yogurt
1 tablespoon smoked paprika
1 tablespoon fresh coriander, chopped
2 teaspoons cumin
3 cloves garlic, minced or grated
1 inch fresh ginger, grated
Salt
1. Place the chicken in a bowl and mix with the marinade ingredients. Set aside for 15-20 minutes.
2. Heat some olive oil in a cast iron skillet (or an ovenproof skillet) set over medium to high heat. When the oil is hot, add the chicken and sear on both sides until golden, for about 3-5 minutes per side. Remove the chicken from the skillet.
3. In the same skillet, add the butter and lemon slices. Sear the lemon until golden on each side. Remove the lemon from the pan and set aside as well.
4. Add  the garlic and orzo to the skillet and cook until the garlic is fragrant and the orzo toasted, for about 2-3 minutes. Add the wine and de-glaze the pan.
5. Dissolve the bouillon cubes in the boiling water and add to the pan. Add the lemon juice, bring to a boil over high heat and stir. Add the chicken and lemon slices to the pan.
6. Transfer to the oven and roast for 15 minutes or until the chicken is cooked through. Serve the chicken topped with the feta cheese and lemon zest.