Oven baked Bulgur with Eggplant and Hummus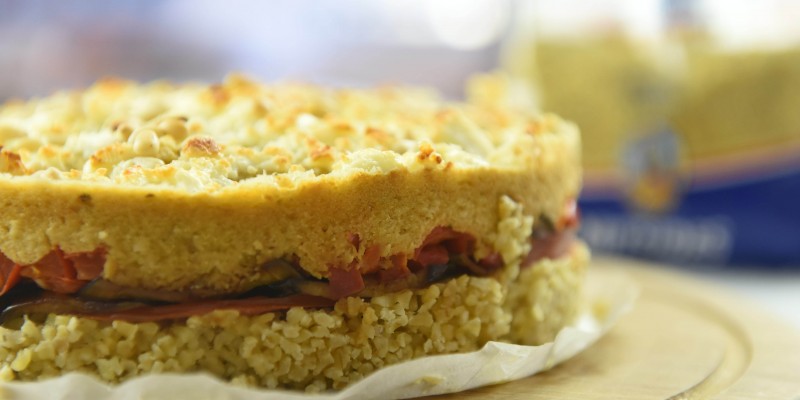 Category:
Oven Dishes
|
Vegetarian
½ cup Mitsides bulgur
2 eggplants of medium size, cut into slices ½ cm.
1 large tomato, sliced
1 red pepper, chopped
3 tablespoons tahini, raw
1 tablespoon lemon juice
½ cup feta cheese, crushed
salt and pepper
olive oil
yoghurt 
handfull pine nuts
For the hummus
1 can chickpeas
2-3 tablespoons olive oil
3-4 tablespoons water
1 tablespoon raw tahini
juice of a small lemon
½ teaspoon cumin
½ teaspoon garlic powder
salt and pepper
Cook the bulgur in 1½ cup boiling water. Add salt and pepper. When ready add the tahini and 1 tablespoon lemon juice and stir.
Heat 1/4 cup olive oil in a large, deep skillet. Dry the eggplant and fry  for 2-3 minutes on each side until golden brown. Then spread out on a plate with kitchen paper for the oil to be absorbed. In the same pan fry the peppers for 2-3 minutes.
To make the hummus, place all ingredients in a food processor (blender) and mix until a smooth mixture is created.
Cover a small round cake tin (20cm diameter) which opens on the sides with greaseproof paper and coat with a little olive oil. Layer the base of the cake tin with bulgur and press down with spoon then follow with a layer of tomato, a layer of eggplant and a layer of peppers. Once done, add a layer of hummus and sprinkle the feta and pine nuts on top. Bake in a preheated oven at 180 ° C for 25-30 minutes or until the surface turns golden brown.
Remove from the oven and leave to cool for 10-15 minutes. Open the tin carefully, and place your "cake" on a serving plate. Serve in pieces with yogurt.