Penne with peas and smoked pork (lountza)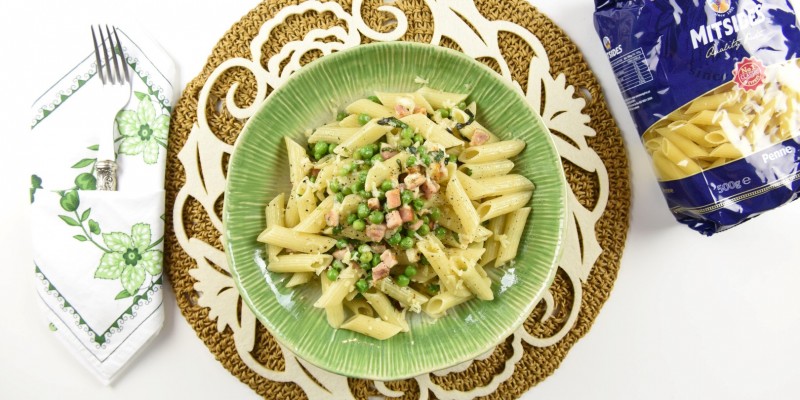 Category:
With Meat & Poultry
1 pack MITSIDES Penne (500g)
2 cubes MITSIDES natural bouillon for pasta
1 spring onion, finely chopped
1 cup peas, defrosted
1 cup smoked pork (lountza), cut in cubes
1 cup halloumi , cut in cubes
½ cup pecorino or parmesan cheese, grated
2 Tbsp basil, chopped
2 Tbsp mint, chopped
olive oil
salt and pepper
In a large pan with plenty of salted boiling water add the bouillon cubes. When dissolved add the pasta and cook following pack instructions until al dente.
Meanwhile, in a large deep frying pan heat some olive oil and add the pork. When it starts to colour add the halloumi. Make sure all sides of the cubes turn slightly golden brown. Add the peas and 1 cup of the pasta water. Add salt and pepper. Cover and simmer for 3-4 minutes.
When the pasta is ready, drain and add to the pan with the peas. Add the basil, mint and grated cheese. Mix well and serve!