Pizza Bianca (Teddy's favourite white pizza)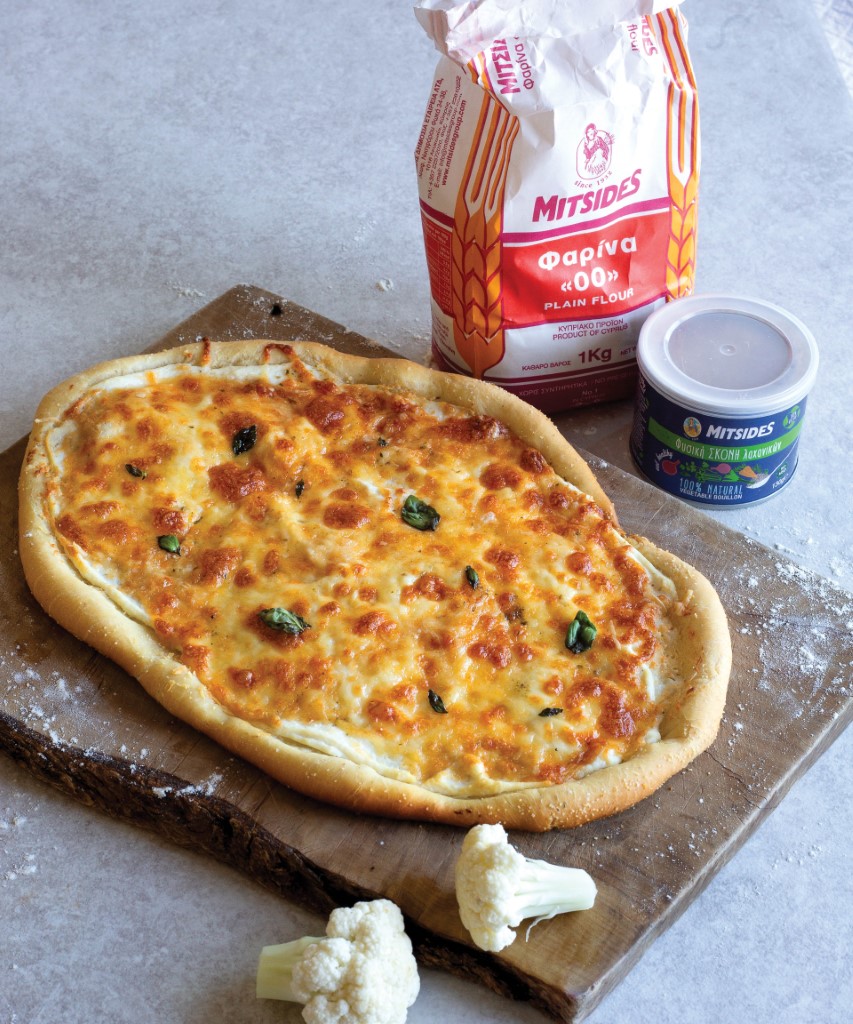 For the pizza base:
2 cups Mitsides Plain Flour
1 sachet of instant yeast (10g)
½ tsp salt
½ cup lukewarm water
3 Tbsp olive oil
Some Mitsides Fine Semolina for dusting
For the white sauce:
½ cup ricotta cheese
½ tsp Mitsides Vegetable Powder
2 Tbsp fresh cream
1 tsp truffle oil (optional)
For the topping:
½ cup shredded mozzarella cheese
½ cup shredded parmesan cheese
½ cup grated cauliflower
Fresh basil to garnish
Black pepper
Combine the flour, salt, and yeast in a bowl of a stand mixer. Add the water and olive oil and stir until the dough comes together. Place on a floured surface, knead for 3-4 minutes until soft and then divide the dough into 2 balls. If the dough is sticky you can add some more flour. Cover each ball loosely with cling film, place in a bowl and let them rest for 30-40 minutes.
In the meantime, prepare the white sauce. Mix the ricotta with the vegetable powder, fresh cream and some pepper. You can also add 1 tsp truffle oil if you like.
Preheat the oven to 180°C. Roll out the 2 balls of dough. Place each one on a lightly floured surface and gently press it down into a circle, adding a pinch of flour if it is too sticky. Then roll out into a circle about 5mm thick. Lightly grease 2 pizza trays or a large oven tray, sprinkle with some semolina and transfer the pizzas. Spread with the white sauce and then top with the cauliflower, mozzarella, parmesan and a bit of salt.
Bake for 13-15 minutes until cheese is golden and bubbly. Sprinkle with basil leaves and serve.