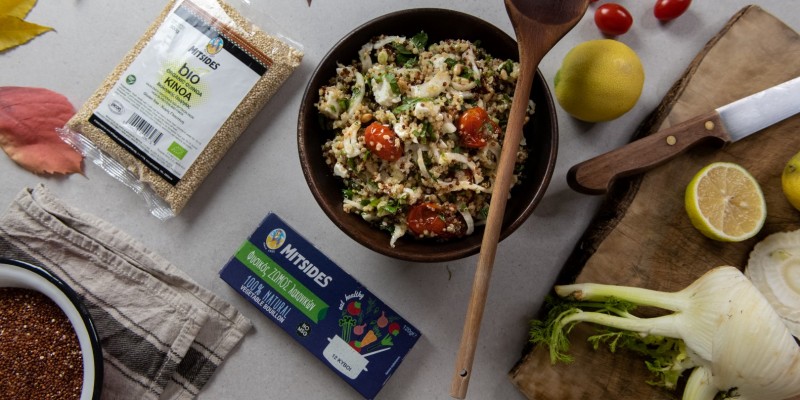 1 cup Mitsides White Quinoa, rinsed
½ cup Mitsides Red Quinoa, rinsed
2 cubes Mitsides Vegetable Bouillon
2 fennel bulbs, thinly sliced
3 spring onions, chopped
½ cup feta cheese, crumbled
1 teaspoon chili flakes
¼ cup coriander, chopped
¼ cup mint, chopped
½ lemon, juice
1 cup cherry tomatoes
1 whole garlic clove, skin on
1 Tablespoon dry or fresh thyme
¼ cup olive oil
3-4 Tablespoons pine nuts, roasted
salt and pepper
Preheat the oven to 200°C. Put the cherry tomatoes and garlic clove in a small baking tray. Drizzle with some olive oil. Add thyme, salt and pepper and mix. Roast for about 30 minutes. Remove from the oven, discard the garlic and let the tomatoes cool completely.
In plenty of boiling water, add the 2 vegetable cubes. When dissolved, add the quinoa and cook following pack instructions until water has been absorbed. Let the quinoa cool completely.
In a large bowl add the fennel, spring onions, chili flakes, coriander, mint, lemon juice and olive oil. Mix well and set aside to marinade for about 20-30 minutes.
To assemble, add the quinoa, cherry tomatoes and their juices, salt, pepper and pine nuts to the large bowl of fennel. Mix well and serve at room temperature or cold.