Spaghettini with breadcrumbs and herbs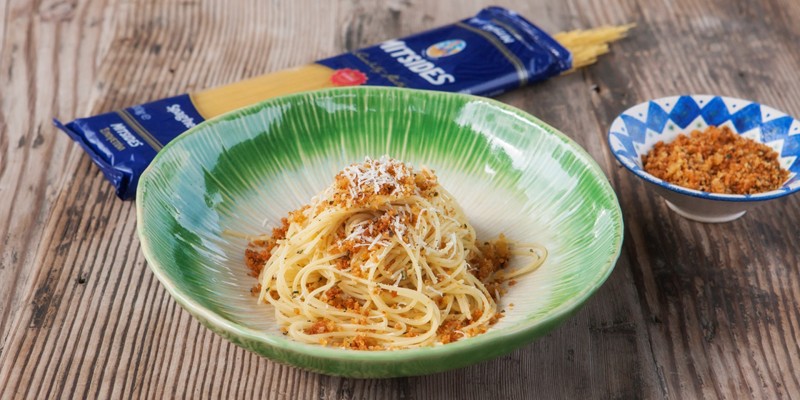 1 package Mitsides Spaghettini (500g)
½ french baguette or 1 cup ready  breadcrumbs
3 tablespoons fresh basil, chopped
3 tablespoons fresh oregano, chopped
3 tablespoons fresh rosemary, chopped
3 tablespoons parsley, finely chopped
3 tablespoons coriander, chopped
1 teaspoon paprika
3 tablespoons Parmesan cheese, finely chopped
3-4 anchovies, finely chopped
1 garlic clove, grated
4-5 tablespoons olive oil 
salt and pepper
Cut the bread into small pieces and process in food processor until you have bread crumps. Add all herbs, garlic, paprika, Parmesan cheese, anchovies, salt and pepper and beat again gently to mix all ingredients together. (Be careful not to use too much salt as the anchovies are quite salty already).
In a large pan with plenty of boiling and salted water cook the pasta following package instructions.
Meanwhile, in a frying pan, heat the olive oil. When warm, pour in the mixture of breadcrumbs and fry until golden. Transfer to a plate with kitchen paper to absorb the excess oil.
When the pasta is ready, sieve and mix with the breadcrumbs adding some more parmesan.