Tagliatelle with prawns and avocado cream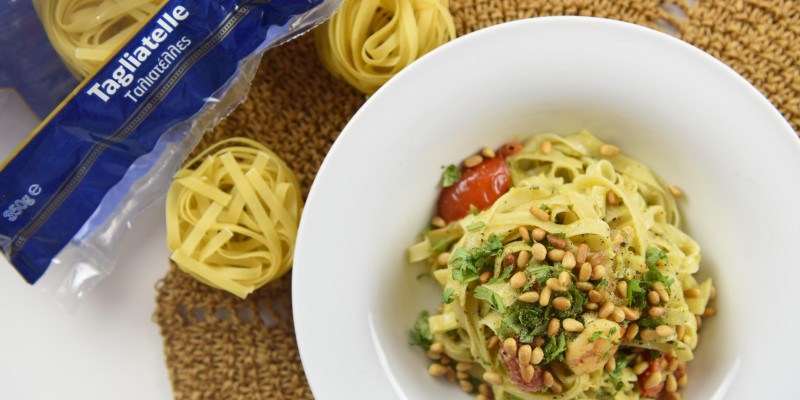 Category:
Vegetarian
|
With Seafood
1 pack Mitsides Tagliatelle 350g
1 cup cherry tomatoes, halved
2 cups large prawns, cleaned and peeled
1 cup fresh coriander, chopped
1 lime, juice and zest
a pinch chili flakes
1 tsp mustard powder
1 garlic clove, minced
¼ cup olive oil
salt and pepper
For the avocado cream:
2 large ripe avocados
½ cup fresh basil
1 garlic clove, chopped
2 Tbsp lemon juice
¼ cup pine nuts, toasted
3 Tbsp olive oil
salt and pepper
Start by marinating the prawns. In a large bowl add the prawns and mix with the coriander, lime juice and zest, chili flakes, garlic, ¼ cup olive oil, salt and pepper. Set aside for 10-15 minutes.
To prepare the avocado cream, add all ingredients in a food processor and blend until you get a smooth mixture.
Cook the pasta in plenty of salted boiling water following pack instructions. In the meantime, heat a large frying pan and add the prawns with their marinate. Cook for 2 mins, add the cherry tomatoes and continue cooking for 5-6 mins.
When the pasta is ready, drain and add it to the pan with the prawns. Mix well to coat the pasta with the remaining juices. Add the avocado cream and mix again.  Serve in bowls and enjoy warm or at room temperature.