Yiayia Monica's pasta with rich tomato sauce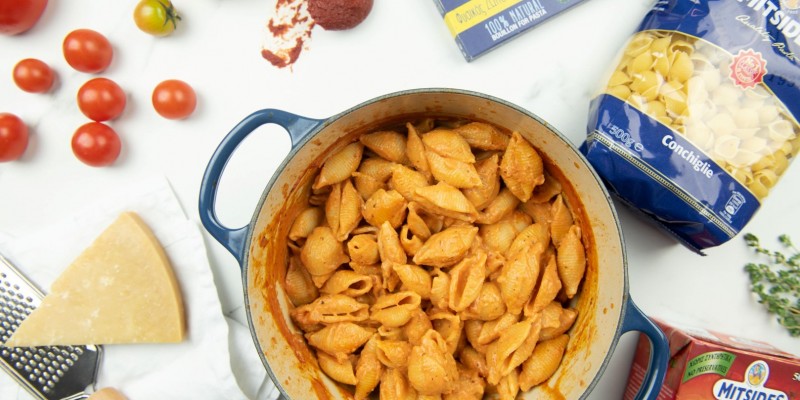 Category:
For Kids
|
Vegetarian
1 pack Mitsides Conchiglie Grandi
1 pack Mitsides Passata (500g)
1 tsp Mitsides Tomato Paste
2 cubes Mitsides Bouillon for Pasta
½ onion, chopped
2 bay leaves
1 tsp mixed herbs
1 tsp smoked paprika
½ cup fresh cream
1 cup cheddar cheese, grated
Olive oil
Salt and pepper
In a large pot with boiling water add the 2 bouillon cubes. When dissolved, add the pasta and cook following pack instructions.
In the meantime, in a medium sized saucepan heat 1-2 tablespoons olive oil and fry the onion. When softened add the passata, tomato paste, paprika, bay leaves, mixed herbs, salt and pepper. Cook over low heat for 10 minutes, stirring occasionally. If the sauce thickens too much you can add a little of the pasta water. When ready, remove the bay leaves, add the fresh cream and mix well. Drain the cooked pasta and return to the pan. Add the sauce and cheddar cheese to the pasta and mix well until the cheese has melted.