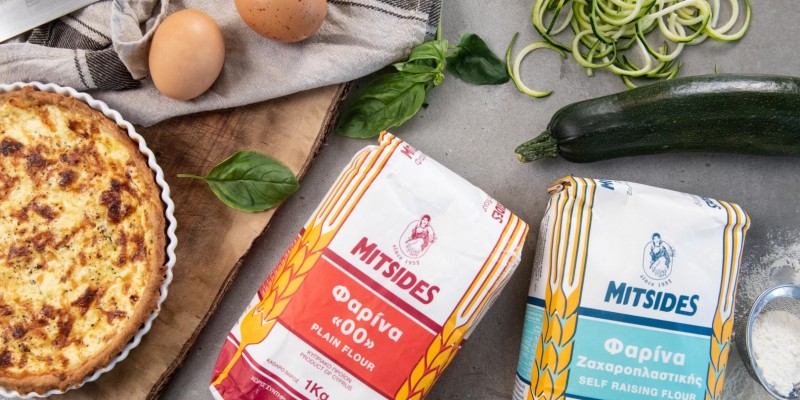 Category:
Breads & Doughs
|
Oven Dishes
|
Vegetarian
For the dough:
    ½ cup Mitsides Plain Flour (Farina "00")
    ½ cup Mitsides Self-Raising Flour
    ½ Tablespoon Baking Powder
    ⅓ cup unsalted butter
    ⅓ cup yoghurt (strained)
    ¼ teaspoon baking soda
For the filling:
2 cups zucchini, cut in spirals
2 eggs, beaten
½ cup milk
1 cup ricotta cheese
1 cup regato cheese, grated
¼ cup halloumi cheese, grated
1 tsp Mitsides Vegetable Powder
1 tsp dry mint
salt and pepper
Preheat the oven to 180 °C and grease an oven proof tart dish (about 25cm diameter).
Place all of the dough ingredients in the mixer and mix until a smooth dough is formed. Adjust flour and yogurt quantities, depending on whether the dough is too moist or too dry. Form the dough into a ball, cover with cling film and leave to rest for about 20 minutes.
On a lightly floured surface, roll out the dough into a large thin circle. Line the tart dish with the dough pressing down. Trim excess dough from the sides.
Place the zucchini spirals evenly at the surface of the pie.
In a large bowl mix the eggs, milk, cheeses, mint, vegetable powder, salt and pepper. Pour on top of the zucchini and using a spatula or a spoon spread everything out.
Bake in the middle of the oven for 45-55 minutes.