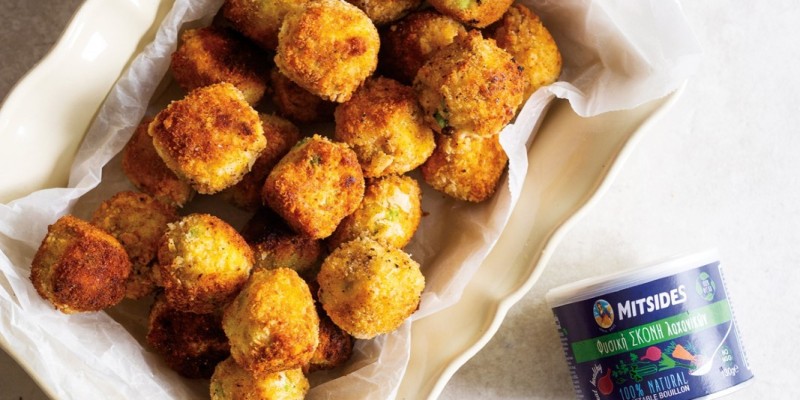 Category:
For Kids
|
With Seafood
2 cod fillets
4 medium potatoes
2 cubes Mitsides Vegetable Bouillon
100g frozen peas
⅓ cup Mitsides All Purpose Flour
1 cup breadcrumbs
1 tsp Mitsides Vegetable Powder
2 eggs, beaten
oil for frying
salt and pepper
Peel and boil the potatoes in water together with the bouillon cubes. Drain and mash. Meanwhile, place the fish in boiling water and cook for a few minutes until cooked. Remove the fish and place the peas in the same water for a few minutes. Drain the peas and flake the fish with a fork. Mix the 3 ingredients together adding a bit of salt. Form about 25 small balls.
Place the flour, egg and breadcrumbs in 3 separate plates. Add the vegetable powder to the breadcrumbs and mix. Roll each ball in a bit of flour, then dip it in the egg and then coat with the breadcrumbs. Repeat with all remaining balls. Chill in the fridge for 30 minutes.
In a large frying pan, heat some oil (about 1cm) and shallow fry the croquettes for 3 minutes, turning continuously until crispy and golden brown on all sides. With a slotted spoon, transfer the croquettes to a plate lined with kitchen paper and let them rest for a few minutes before serving.
Note: This can be regarded as a full meal as it contains fish, potato and vegetable, so no side dish is needed!