Moroccan Bulgur with veggies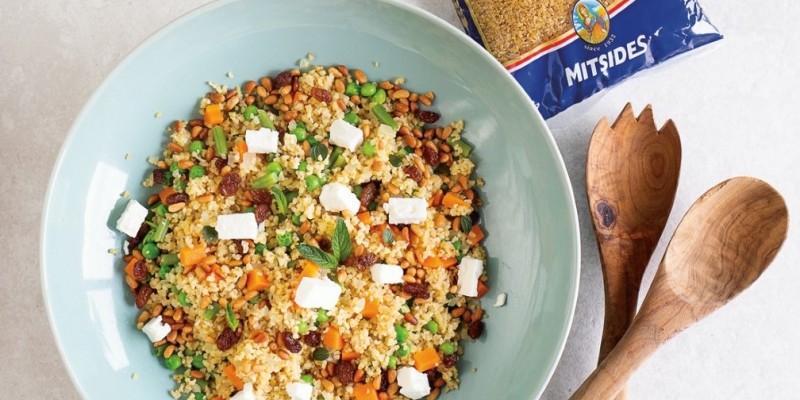 Category:
For Kids
|
Vegetarian
1 cup Mitsides Bulgur
3 cups boiling water
1 tsp Mitsides Vegetable Powder
1 onion, chopped
1 medium carrot, diced
½  cup green beans, cut in 2cm pieces
1 cup peas, defrosted
⅓ cup raisins
⅓ cup pine nuts, roasted
a handful of fresh mint leaves, chopped
½ cup feta cheese, crumbled
1 tsp cumin
1 tsp paprika
salt and pepper
2 Tbsp olive oil
In a medium sized saucepan heat the oil and add the onion. When softened, add the carrots, green beans, raisins, cumin, paprika, salt and pepper. Cook the veggies for about 5 minutes and then add the bulgur. Cook for another 1-2minutes and then add the boiling water and vegetable powder. Simmer on low heat until all water has been absorbed and bulgur is cooked. Add the peas and stir for about a minute. Take off the heat and add the pine nuts and feta cheese. Serve warm or at room temperature with yogurt.
Note: You can make this dish even tastier by adding this  special sauce: In a small jar with a lid add 1 tbsp soy sauce, 1 tbsp raw tahini, 2 tsp apple cider vinegar, 5 tbsp water, 1 tbsp nutritional yeast, a bit of pepper. Close the lid and shake well. Pour on top of the bulgur.